Grilled Artichokes with Maille Aioli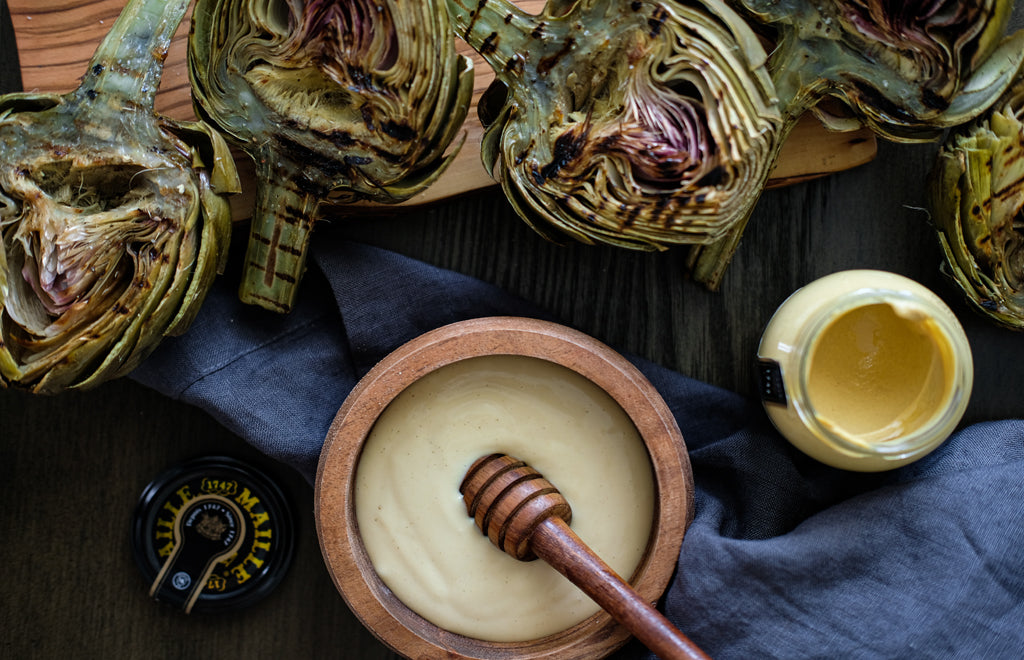 Prep Time: 45 minutes
Cook Time: 35-45 minutes
Servings:6
By:
Allthingsfabulous
Ingredients:
3 whole artichokes
1 lemon
2 Tbsp Melted Butter
T.T salt and pepper
For the Aioli:
1 Tbsp Maille Dijon Originale
1/2 cup Mayonnaise
1 Tbsp Lemon Juice
1 Tbsp Honey
Preparation
For the Artichokes:
Prepare artichokes by removing the tough outer leaves around the stem. Use kitchen shears to cut the tips of the remainder of the leaves.
Cut the artichokes in half lengthwise and remove the fibrous filling in the center.
Rub the artichokes with sliced lemon to prevent discoloration.
Fill a large pot or steamer with approximately two inches of water. Steam the artichokes for 25-35 minutes or until softened.
For the Aioli:
While the artichokes steam, prepare the aioli by mixing together Maille Dijon Originale mustard, mayonnaise, lemon juice, and honey
To Serve:
After the artichokes are steamed, brush them with melted butter.
On a gas or charcoal grill, grill the artichokes cut-side down for approximately 5 minutes.
Season the artichokes with salt and pepper to taste and serve with mustard aioli.
---