Honey Mustard Roasted Salmon with Spinach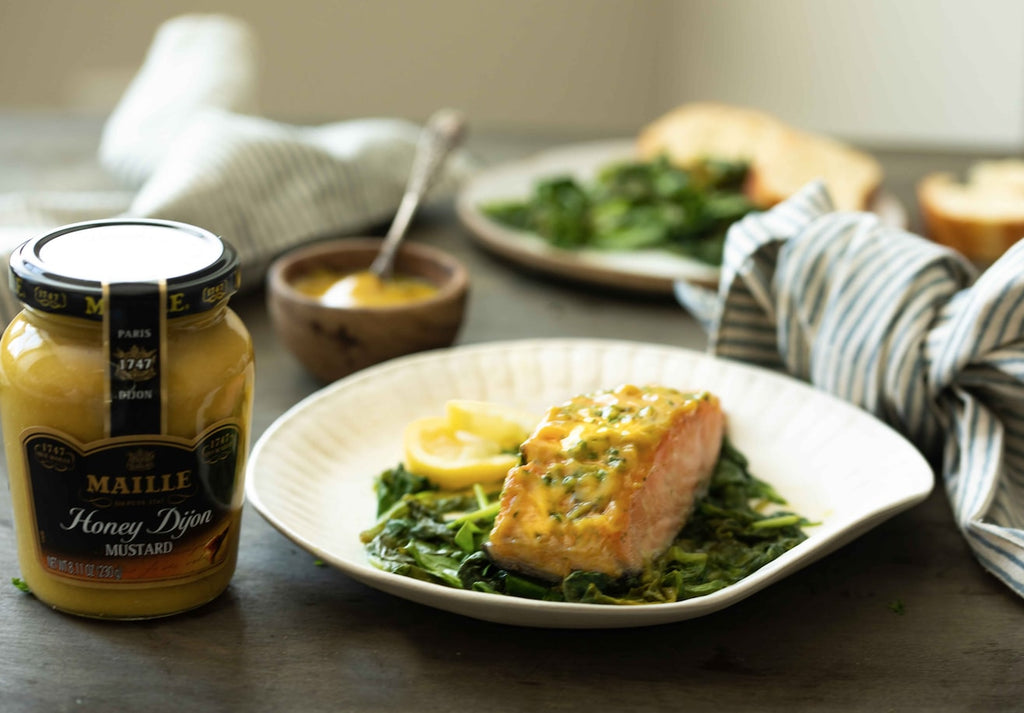 Prep Time: 20 minutes
Cook Time: 25 minutes
Servings:6
By:
Whiskitrealgud
Ingredients:
6 Ea. Salmon Filets
2 tsp. Extra Virgin Olive oil + extra as needed
1 1/2 Tbsp. Fresh parsley, Chopped
4 Tbsp. Maille Honey Mustard
1 tsp. Fresh Lemon Juice
10 oz. Fresh Spinach, Cleaned
T.T. Salt and Pepper
For the Salmon Brine:
3 cups Cold water
3 Tbsp Salt
Preparation
For the Brined Salmon:
Cut the salmon into 6 fillets. To a large shallow bowl or baking dish, add 3 cups of water and 3 Tbsp of salt. Stir until the salt is dissolved. Add the salmon, flesh side down into the salted water. Brine for 15-20 minutes.
Cooking the Dish:
Preheat the oven to 425 degrees Fahrenheit.
In the meantime, in a small bowl, add the Maille Honey Dijon, minced garlic, fresh minced parsley, and lemon juice. Mixed to combine.
Pat the salmon very dry. Season with pepper. Brush olive oil over the top and bottom of fillets. Next, brush half of the mustard mixture over each fillet. Place fillets on a baking sheet and roast for about 20 minutes.
Add the remaining mustard mixture to a bowl with the spinach. Tossed to combine.
Next, place the spinach on a small baking sheet. Roast for about 5-7 minutes. Remember you want to finish cooking everything at the same time, so timing is important here.
To Serve:
To serve, place the spinach on a plate and top with the fillet. Brush salmon with additional Maille Honey Dijon if you like.
---