Roasted Carrot Tart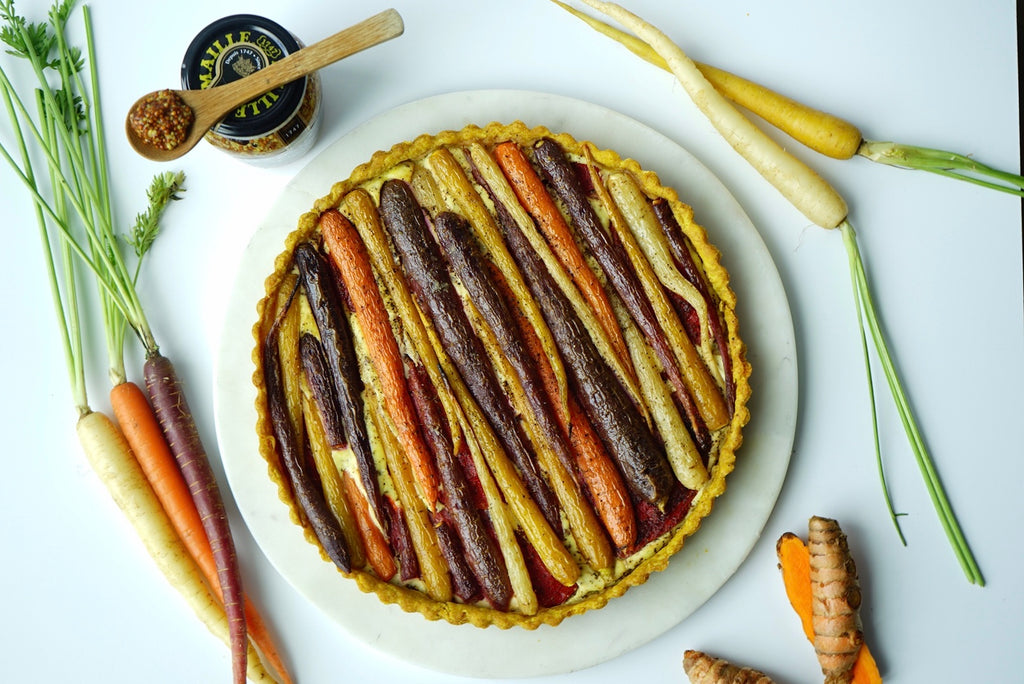 Prep Time: 20 minutes
Cook Time: 40 minutes
Servings:4
By:
Foodieinnewyork
Ingredients:
1 Round of pie dough
1/2 teaspoon ground turmeric
2 tablespoons Maille Old Style mustard
1/2 cup (4 ounces) plain goat cheese at room temperature
2 medium or large eggs
1/4 cup heavy cream
1 teaspoon ground cumin (optional)
1/2 teaspoon salt
1/2 cup roasted peppers, drained and torn into strips
1 small bunch multicolored carrots
1 tablespoon extra virgin olive oil
T.T salt and pepper
Preparation
For the Dough:
Preheat the oven to 400 degrees F. and place a rack in the center.
Fit the round of dough into a 9-inch tart pan and sprinkle the ground turmeric evenly over the tart. Place tart dough in the freezer while preparing the filling.
For the Filling:
Whisk the goat cheese, eggs, cream, cumin and salt together. Set aside.
Wash and dry the carrots. If they are large, cut them in half. If they are very small, you can leave them whole.
Assemble the tart:
Remove the tart from the freezer. Use a fork to prick holes on the bottom.
Smear the two tablespoons of Maille Old Style mustard in an even layer on the bottom of the tart. Pour the goat cheese custard on top and spread in an even layer.
Arrange the roasted pepper strips on top.
Nestle the carrots on top of the roasted peppers.
Drizzle with olive oil and sprinkle with a dash of salt and pepper.
Bake until the filling is set and the carrots are cooked through, about 40 minutes. Remove from the oven and let cool before enjoying
---