Seared Trout with Dijon Butter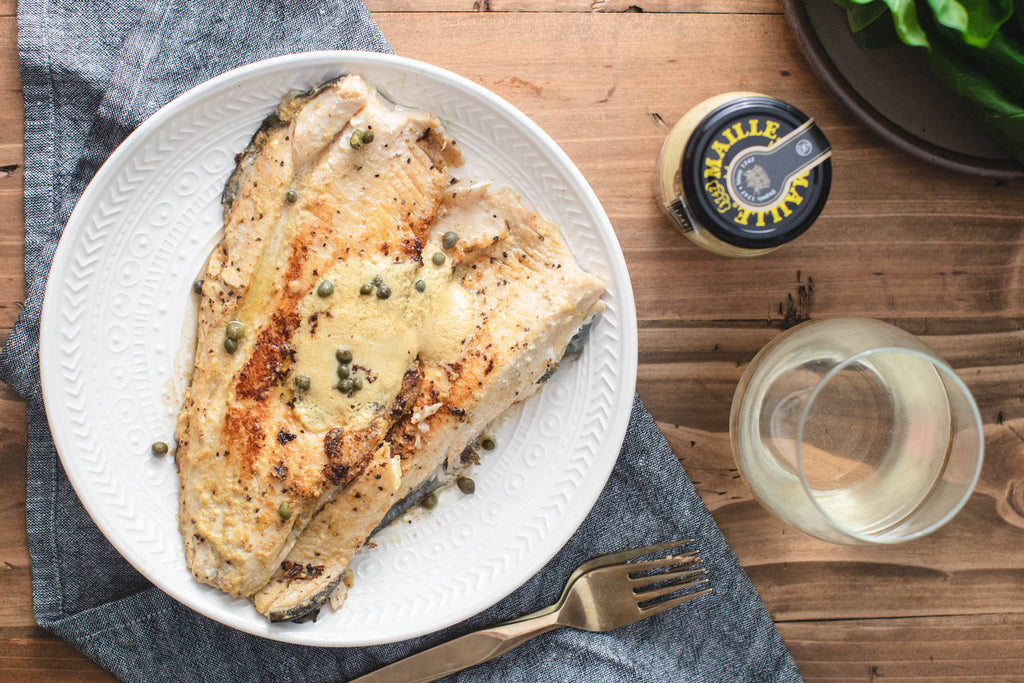 Prep Time: 15 minutes
Cook Time: 15 minutes
Servings:4
By:
Cookswithsoul
Ingredients:
4 tablespoons unsalted butter, room temperature
2 teaspoons Maille Dijon Originale Mustard
1 pound trout fillet, skin on (about 2 fillets)
2 teaspoons Extra Virgin Olive Oil
1 tablespoon capers, optional
T.T salt and pepper
Preparation
For the Butter:
Mix together room temperature butter and Maille Dijon Originale Mustard.
Spoon mixture onto a sheet of plastic wrap and wrap tightly.
Place wrapped Dijon butter mixture in the freezer for 10 mins, until set.
For the Trout:
Season the flesh side of the trout with Kosher salt and freshly cracked black pepper.
Heat a large cast iron skillet over medium heat and add olive oil.
Place trout fillets flesh side down and cook for 3-5 minutes.
Meanwhile, slice Dijon butter mixture into 4 equal slices.
Turn fillets over, skin side down, and add slices of Dijon butter to the skillet and allow the mixture to melt.
Spoon melted Dijon butter mixture on top of fish and cook for 2-4 minutes more.
To Serve:
Remove cooked trout to a plate, spoon with additional melted Dijon butter from the skillet, and top with capers, if desired.
Serve Immediately.
---