Spinach Salad with Chicken and Honey Dijon Dressing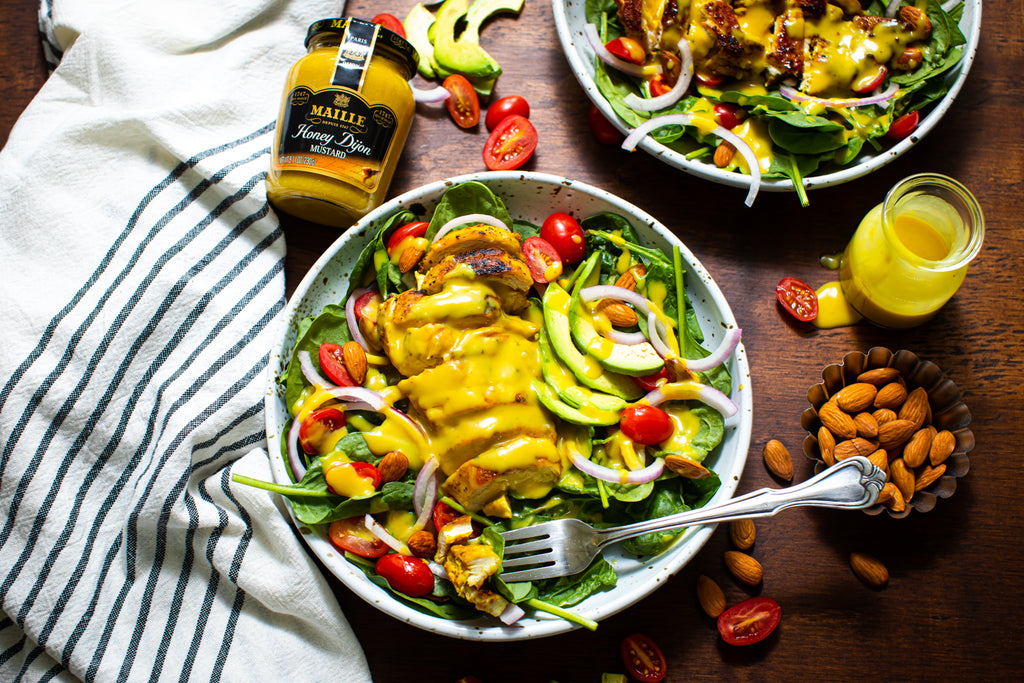 Prep Time: 20 minutes
Cook Time: 10 min
Servings:2
By:
Butterbeready
Ingredients:
1 lb chicken breasts, grilled/fully cooked
1/2 teaspoon turmeric
2 tablespoons extra virgin olive oil
5 ounces baby spinach
1/2 small red onion, thinly sliced
1 cup grape tomatoes, sliced into
1/3 cup whole almonds
1 small avocado, sliced
T.T salt and pepper
For the Dressing:
1/2 cup Maille Honey Dijon Mustard
2 tablespoons apple cider vinegar
2 tablespoons extra virgin olive oil
1 tablespoon garlic paste/minced garlic
2-3 tablespoons water, to thin
T.T. Salt and Pepper
Preparation
For the Chicken:
Season chicken breasts generously with salt/pepper/turmeric. Rub seasonings into chicken.
In a large pan, heat olive oil over medium-high heat. Cook chicken breasts, about 5-6 minutes on both sides, or until chicken is cooked through completely. Alternative method: you can grill or bake chicken in the oven. Then set chicken aside.
For the Dressing:
Combine the mustard, apple cider vinegar, olive oil, garlic, salt/pepper into a mason jar. Add in a tablespoon of water at a time, to thin out, until desired dressing consistency is reached; about 2-3 tablespoons should do the trick.
Assembling the Salad:
Evenly divide spinach among two large salad bowls. Next, top with red onions, tomatoes, almonds, and avocados. Slice chicken breasts and top directly onto salads. Lastly, drizzle honey dijon dressing all over salads and enjoy!
---