Summer Roasted Vegetables with Garlic Dijon Butter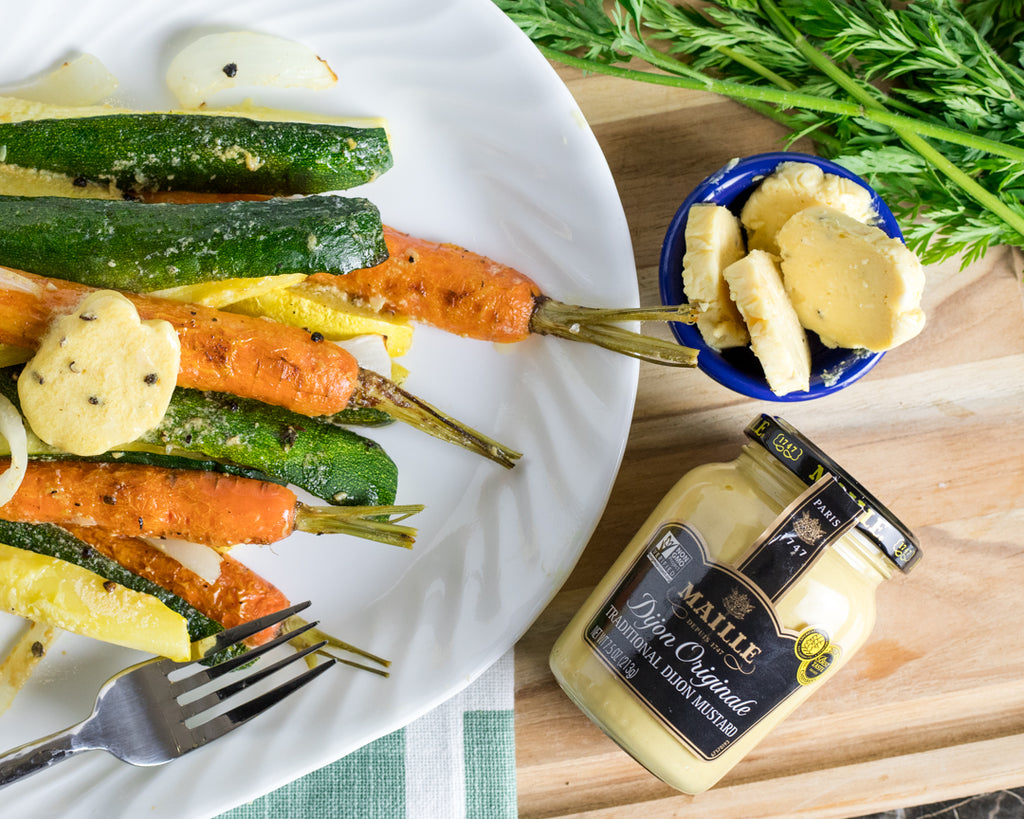 Prep Time: 20 minutes + Butter Chill Time
Cook Time: 25 min
Servings: 4
By:
 Erique Berry
Ingredients
2 ea. Zucchini, Medium
4 ea. Carrots, Medium
2 ea. Yellow Squash, Medium
1 ea. Sweet Onion, Large
For the Garlic Dijon Butter:
8 Tbsp. Unsalted Butter, Softened
3 ea. Garlic Cloves, Chopped
2 Tbsp. Maille Dijon Originale
Preparation
For Dijon Garlic Butter:
Combined softened butter, chopped garlic, Maille Dijon Originale Mustard.
Place butter mixture on a piece of plastic wrap, form mixture into a log. Wrap up and twist the ends.
Chill in the refrigerator for at least 2 hours before preparing vegetables.
For the Summer Vegetables:
Preheat the oven to 325 degrees.
Rinse zucchini, yellow squash, and carrots.
Slice zucchini and squash in fourths, lengthwise. Slice carrots in half, lengthwise. Slice yellow onion.
Place all vegetables on a large enough roasting pan, so there is only one layer of vegetables.
Season vegetables with salt and pepper. Set aside.
Slice the butter log in half and melt butter to spread on vegetables.
Brush all vegetables with melted dijon garlic butter.
Place the pan of vegetables in the oven for 20-25 minutes or until vegetables are tender.
Serve immediately with a slice of garlic dijon butter.
---