Almond sponge cake, honey mustard crème anglaise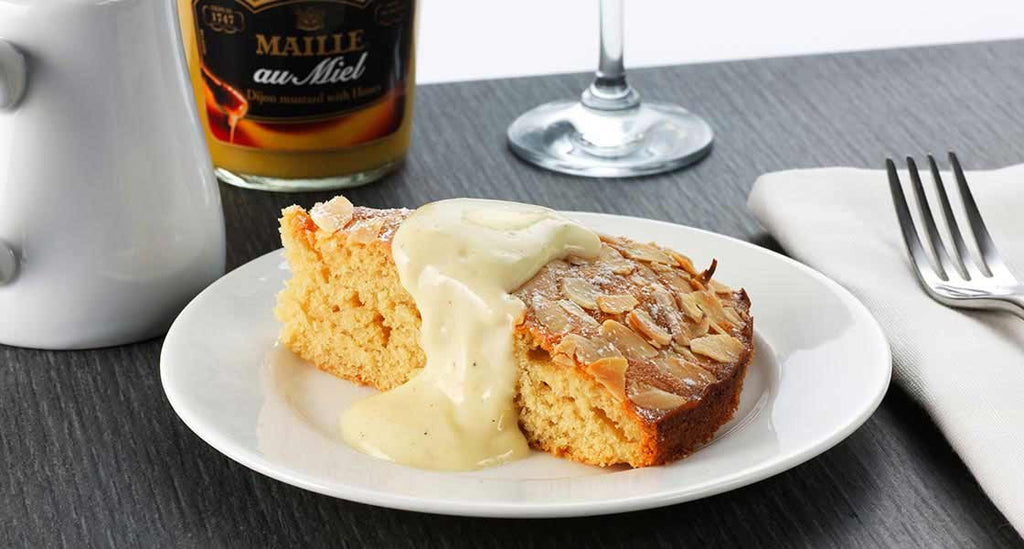 Ingredients
For the crème anglaise
For the cake
½ cup unsalted butter
½ cup demerara sugar
2 whole eggs
¾ cup self-raising flour
¾ cup flaked almonds
Confectioners sugar for dusting
Fred Sirieix
Fred Sirieix is the General Manager at Galvin at Windows, the Michelin-starred restaurant at the London Hilton on Park Lane. Fred has over 20 years of experience at top London restaurants including Le Gavroche, Sartoria, and Brasserie Roux.
Preparation
Preheat oven to 350°. Grease 8-inch baking pan; set aside.
For Crème Anglaise, bring cream and milk to a gentle boil in small saucepan. Combine superfine sugar and egg yolks with wire whisk in small bowl. Stir into saucepan and cook, stirring frequently, until mixture coats the back of a spoon. Pass the mix through a "chinois" or strainer. Chill mix and add the Maille mustard with honey to your taste.
For the cake mixture, cream butter with demerara sugar in large bowl with electric mixer until light and fluffy. Add eggs one at a time, beating well after each addition. Fold in flour. Pour into prepared baking pan, then top with almonds.
Bake 25 minutes or until toothpick inserted in center comes out clean.
To serve
Before serving, dust, if desired, with confectioners sugar and with the crème anglaise in a jug on the side.
---