Apple, Onion, & Gouda Canapés with Cranberry and Mustard Sauce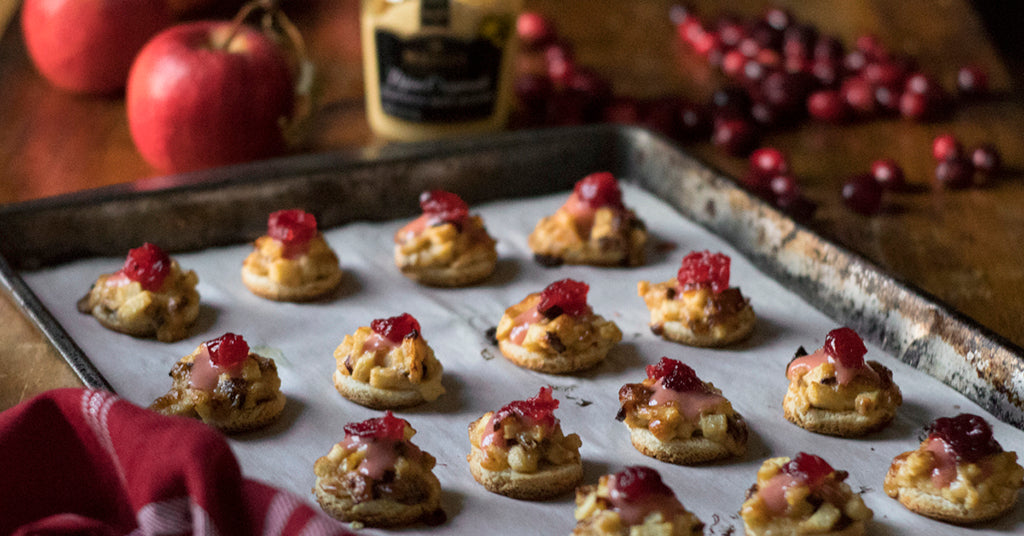 Recipe created by: moodymixologist.com
Servings: 20 canapés
Ingredients
For the Canapés:
5 slices of white sandwich bread
¾ cup peeled, finely diced apple
½ cup finely diced yellow or sweet onion
½ cup grated smoked gouda
2 tbsp mayonnaise
1 tbsp olive oil
1 tbsp sour cream
Pinch of salt
For the Cranberry Syrup:
1 cup fresh cranberries
1 cup sugar
1 cup water
For the Cranberry & Mustard Sauce:
4 tbsp cranberry syrup
Reserved cranberries
Preparation
Preheat to 400° F.
Line a large baking sheet with parchment paper
Finely dice onion and apple.
Heat olive oil in a small skillet, add diced onion, and saute on low until onions are caramelized. Allow to cool.
Meanwhile, in a small saucepan, combine the Cranberry Syrup ingredients and simmer just until the fruit begins to breakdown, about 10 minutes. Remove from heat and allow to cool. Strain through a mesh strainer. Do not press on solids. Reserving solids to top canapés. Leftover syrup can be kept in a clean glass jar in the refrigerator for up to 2 weeks.
Using a cookie cutter or canapé cutter, cut 4 rounds from each slice of bread, 20 total.
In a medium sized mixing bowl, mix caramelized onion, apple, gouda, mayonnaise, Maille Dijon Originale Mustard, sour cream, and a pinch of salt.
Top each bread round with about 2 tsp of mixture.
Bake for about 15 minutes, or until the tops and bottoms are both lightly browned.
While canapés are baking, whisk together Cranberry & Mustard Sauce ingredients.
Allow canapés to cool for a few minutes, then drizzle sauce on top of each and stud with a cranberry reserved from the syrup.
This recipe has been conceived to pair with Cranberry Campari Spritz
---