Asian Chili Paneer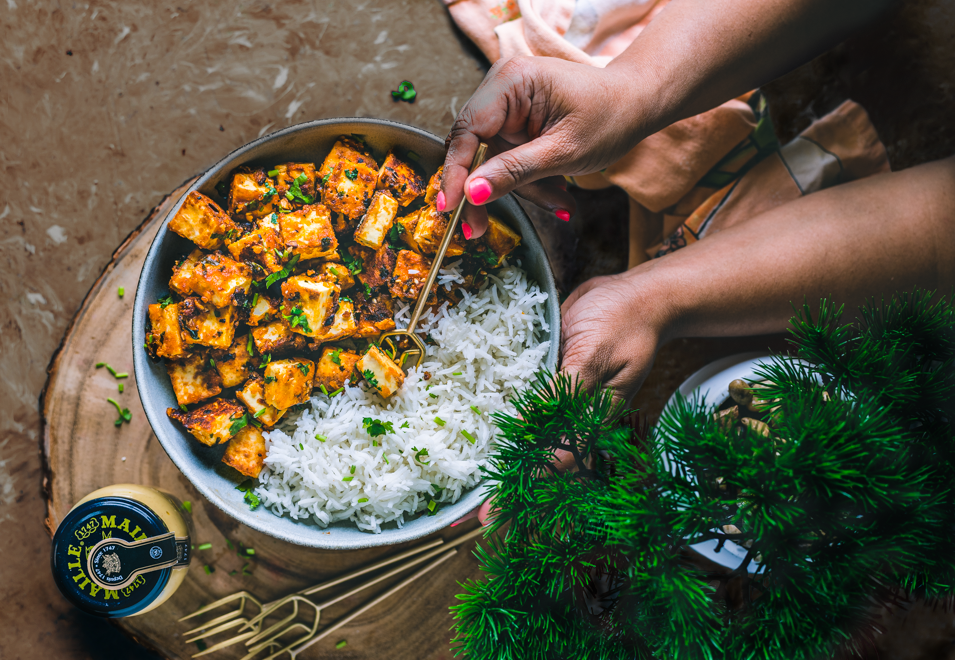 Prep Time: 5 minutes
Cook Time: 10 minutes
Servings: 4
By:
Cookilicious
Ingredients
To prep the paneer:
250 gms paneer
2 tbsp cornstarch
To prepare the creamy sriracha mustard sauce:
1 Tbsp Coconut Aminos
1 tbsp rice vinegar
1 tbsp Maille Dijon Originale
1/2 tbsp honey
1-2 tbsp sriracha sauce
To prepare the stir-fry:
2 tbsp sesame oil
8-10 cloves garlic
1 tbsp sesame seeds
2-3 tbsp cilantro chopped
Preparation
Cut paneer into small cubes.
Transfer to a bowl and add corn starch. Toss and coat the paneer cubes with corn starch. Set it aside for 5 minutes. Meanwhile, chop the garlic and cilantro.
In a small bowl, add Coconut Aminos, and rice vinegar.
Then add Maille Dijon Originale to the bowl.
Next, add the honey followed by sriracha sauce.
Whisk it all together and keep it aside.
Heat sesame oil in a pan and fry garlic and sesame seeds.
Then add the paneer cubes and fry till they turn crisp. Keep turning them on all sides to cook evenly and do not crowd the pan.
Lastly, pour the prepared sauce and coat the paneer. Take it off the flame once its coated.
---