Asian shrimp salad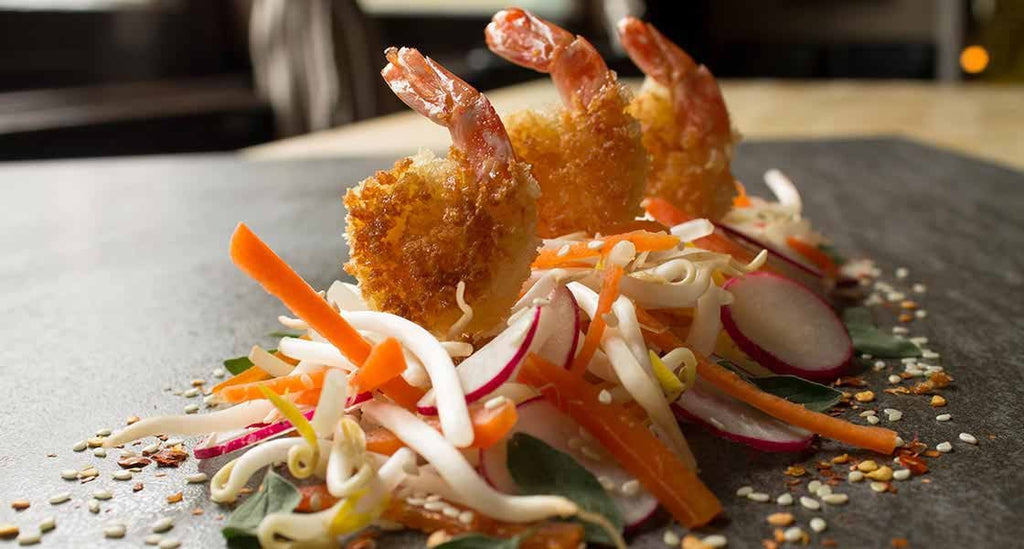 For the Shrimp
24 medium shrimp, cleaned with tails attached
½ cup flour
6 Tbsp Maille Honey Dijon mustard
½ cup Panko bread crumbs
Vegetable Oil
For the Vinaigrette
2 tbsp. rice vinegar
2 tbsp. soy sauce
2 tbsp. olive oil
1 tsp. honey
1 tsp. Asian fish sauce
1 tsp. shredded fresh ginger
Salt and Pepper to taste
For the Salad
4 green onions, finely chopped
1 red bell pepper, cut into thin strips
1 large carrot, cut into thin strips
8 radishes, finely sliced
1 cup bean sprouts
1 tbsp. sesame seeds, toasted
1 tbsp. pink peppercorn, crushed
Eric Gauthier
Head chef and owner of Ateliers & Saveurs, Éric Gauthier created in 2008 an unique concept in Québec: gather in one place cooking, cocktails and wine tastings classes available for everyone. Eager for discoveries, Éric, full of energy, gets his inspiration through his meetings and journeys to bring soul to his creations.
Preparation
Coat shrimp in flour, Maille Honey Dijon mustard, then bread crumbs. Heat oil in large skillet over medium heat. Place shrimp in skilled before the oil gets hot and cook, turning once, until crispy and golden brown, about 4 minutes; remove shrimp and set aside.
Combine all liquid ingredients of vinaigrette with wire whisk in small bowl. Stir in ginger, salt and pepper.
To serve
Evenly arrange salad on 4 plates. Top with sesame seeds, peppercorns, shrimp and cilantro.
---