Asparagus Radish Salad with Honey-Mustard Dressing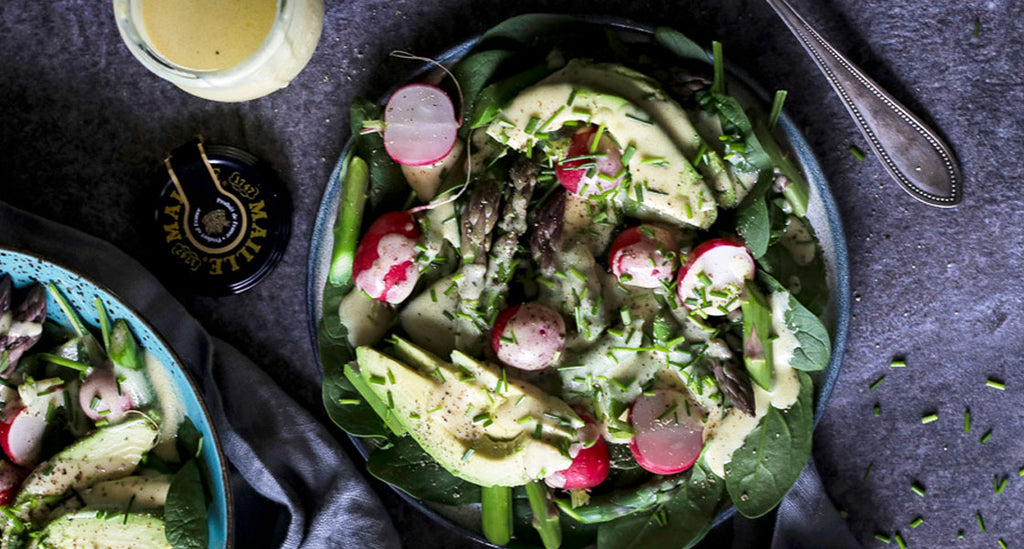 Recipe by: HappyKitchen.Rocks
Prep Time: 10 minutes
Cook Time: 5 minutes
Servings: 4
Ingredients
For the spring salad:
1 bunch asparagus (around 20 spears)
1 bunch radishes (12-15 radishes)
2 handfuls fresh baby spinach (about 2 cups, packed)
1 avocado
2 tablespoons chives, chopped
For the honey-mustard dressing (makes ½ cup):
4 tbsp Greek yogurt
2 tbsp extra virgin olive oil
2 tbsp honey
2 tbsp lemon juice
1 tsp garlic powder
Salt and freshly ground black pepper to taste
Preparation
Prepare the veggies
Rinse asparagus under cold water and cut off the white ends (take 6-7 spears at a time) with a very sharp knife.
Bring a medium pot of water to a boil. Add asparagus, ends down, and cook for just a minute. Transfer to a bowl with cold water to prevent further cooking. This will keep the asparagus beautifully green and crisp.
Cut asparagus into 1.5 inch (4 cm) diagonal pieces. Set aside. Cut radishes in halves lengthwise. Cut the avocado in half lengthwise and pit it. Then slice it and scoop it out with a tablespoon.
Make the dressing
In a small jar, combine Greek yogurt, Maille Dijon Originale Mustard, honey, extra virgin olive oil, lemon juice and garlic powder. Add some salt and freshly ground black pepper to taste. Whisk or shake until combined.
Assemble the salad
Arrange baby spinach on a large plate. Top with chopped asparagus, radishes and avocado. Drizzle with honey-mustard dressing and sprinkle with chopped chives and some more freshly ground black pepper. Enjoy!
---