Asparagus & Sausage Quiche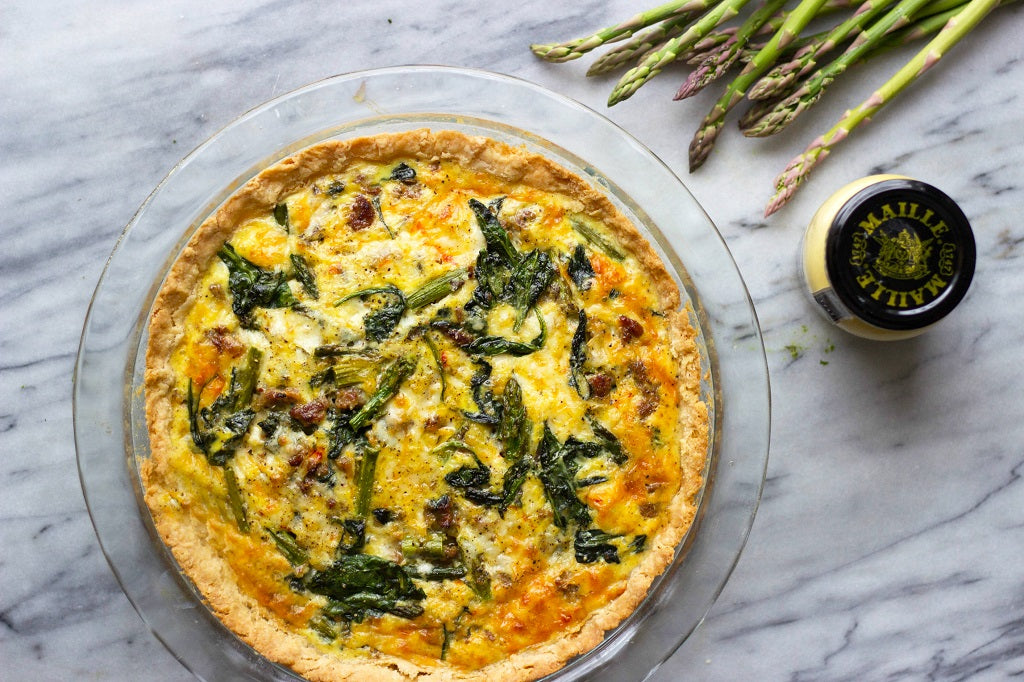 Recipe created by: The Gourmet RD
Servings: 8
Ingredients
For the crust:
1 ¼ cups whole wheat pastry or all-purpose flour
¼ tsp. coarse salt
8 Tbsp. (1 stick) cold butter, cut into cubes
4-5 Tbsp. ice water
For the filling:
2 Tbsp. olive oil
⅓ lb. ground Italian turkey or pork sausage
½ lb. asparagus, cut into 1-inch pieces
2 cups fresh baby spinach
8 large eggs
¼ cup plain Greek yogurt
1 ½ tsp. onion powder
1 ½ tsp. garlic powder
1 ¼ tsp. coarse salt
½ tsp. ground black pepper
¼ tsp. crushed red pepper flakes
½ cup shredded muenster or Gruyere
Preparation
Place flour, salt and cold butter cubes in the bowl of a food processor. Pulse a few times, drizzling the water through the vegetable shoot, until pea-sized granules form.
Transfer to a flat surface that is dusted with flour. Work the dough with your hands until it forms into a ball (do not overwork; you should see small chunks of butter throughout the dough). Wrap the dough in plastic wrap and refrigerate 30 minutes or freeze 15 minutes.
In the meantime, heat oil in a large skillet to medium. Add the sausage and as it cooks, break it into small pieces with a wooden spoon. When it starts to brown, add the asparagus and spinach. Sauté, stirring frequently, until sausage is fully cooked, asparagus is slightly tender and spinach is wilted. Remove from the heat.
In a large bowl, whisk together the eggs, Greek yogurt, Maille Traditional Dijon Originale Mustard, onion powder, garlic powder, salt, black pepper and red pepper flakes. Add the sausage and vegetable mixture to the egg mixture and fold until well-combined. Set aside.
Preheat the oven to 425 degrees.
Remove the dough from the plastic wrap and place it on the floured surface. Use a rolling pin to roll it out into a circle, about an inch larger than a 9-inch deep dish pie plate. Transfer the dough to the pie plate and press it down evenly into the plate. Fold the edges over and use your thumbs or the back of a fork to secure the edges against the plate. Poke several holes into the bottom of the dough with a fork. Bake for 10 minutes. Let slightly cool.
Pour the egg mixture into the pie plate and use a spatula to evenly disperse the fillings. Top with the shredded cheese. Bake for 10 minutes, then reduce the heat to 350 degrees. Bake another 20-30 minutes or until the filling is set.
Let slightly cool before slicing and serving.
---