Baked Croque Monsieur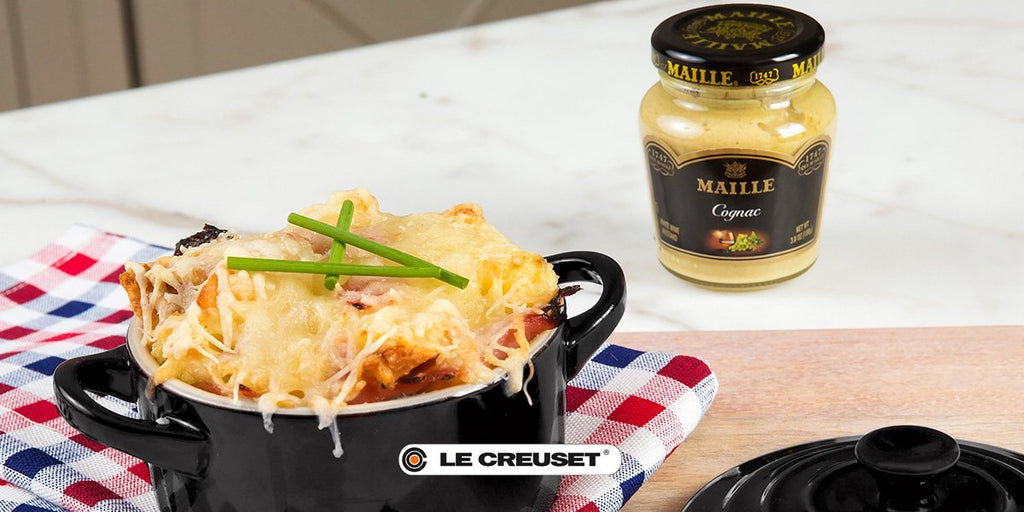 Ingredients
1/2 tbsp. butter
1/3 cup milk
1/2 tbsp. Walnuts and White Wine Mustard
1  whole egg
Pinch cayenne pepper
5 slices baguette
50g pine nuts
1 slice black forest ham, cut or torn in to small pieces
1/3 cup grated gruyere cheese
Chopped chives for garnish
Preparation
Butter the inside of a Le Creuset stoneware mini cocotte
Whisk together milk,1/2 tbsp. Walnuts and White Wine Mustard, egg, cayenne, salt and pepper.
Tear baguette slices half and spread each piece with remaining mustard.  Layer a few pieces of baguette and ham in the mini cocotte and sprinkle with gruyere cheese. Repeat layers with remaining bread, ham and cheese, reserving some grated cheese for later.  
Pour egg and milk mixture over the bread into the cocotte, and gently press down on bread to submerge.  
Cover and chill for at least an hour.
Preheat oven 350°.  Remove cover from mini cocotte and bake for 15 minutes. Sprinkle remaining reserved cheese on top and bake for another 10-15 minutes until pudding is set and cheese is melted and golden brown.  
Garnish  with chopped chives.
---