Balsamic Dijon Veggie + Tofu Kebabs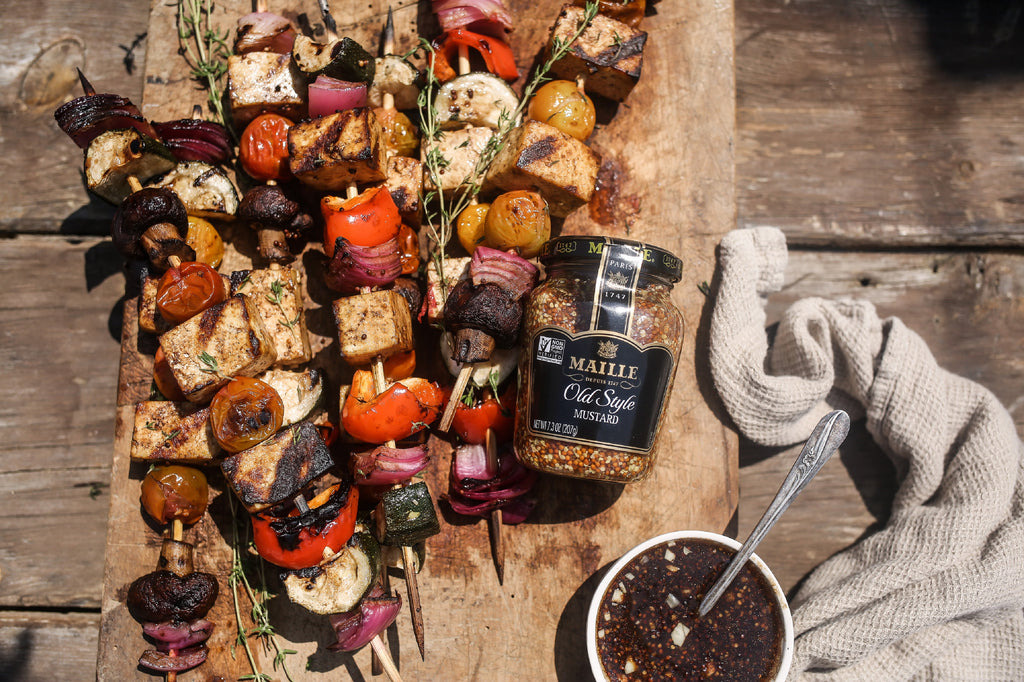 Prep Time: 15 Minutes
Cook time: 12-15 Minutes
Serves: 8 Kebobs
By: Alyssa Ponticello
Ingredients
1 Lb Extra Firm Tofu
1/3 Cup Olive or Avocado Oil
1/3 Cup Balsamic Vinegar
2 Tbsp Maille Old Style
2 Cloves Garlic, Fresh, Minced
2 Cups of Veggies (i.e. Cherry tomatoes, Mushrooms, Zucchini, Red onion, Bell peppers)
T.T. Salt and Pepper
Garnish, Fresh Herbs
Preparation
Use a towel or paper towels to gently press water out of tofu. Carefully cut it into 1" cubes, then use additional towels to remove any further water. Let the cubes rest and continue drying while you make the marinade and prep the veggies.
In a small bowl, whisk together the oil, vinegar, Maille Old Style and garlic. Set aside.
Clean, dry and cut any veggies, as necessary. For larger mushrooms, slice them in half. Smaller ones can be left whole. For zucchini, red onion and peppers, cut them into approximately ½" chunks or pieces. Cherry tomatoes are good as is.
Gently toss the tofu and veggies with marinade. If you prefer, for a stronger flavor, you can spread the tofu and veggies in a glass baking dish, top with marinade, cover and let marinate in the refrigerator for up to an hour.
Preheat the grill to medium heat. Be sure to oil the grill well as tofu can stick.
Thread the tofu and veggies onto the kebabs. If you're using wooden skewers, be sure to soak them in water for at least 30 minutes before using. Sprinkle with salt and fresh pepper. Grill for 12-15 minutes, turning the kebabs once or twice throughout the grilling process, basting with additional marinade as they cook. The tofu and veggies should have some grill marks when done.
Transfer to a serving dish. Baste with remaining marinade. Garnish with fresh herbs and enjoy!
Enjoy!
---