Beef short ribs, mustard and carrot puree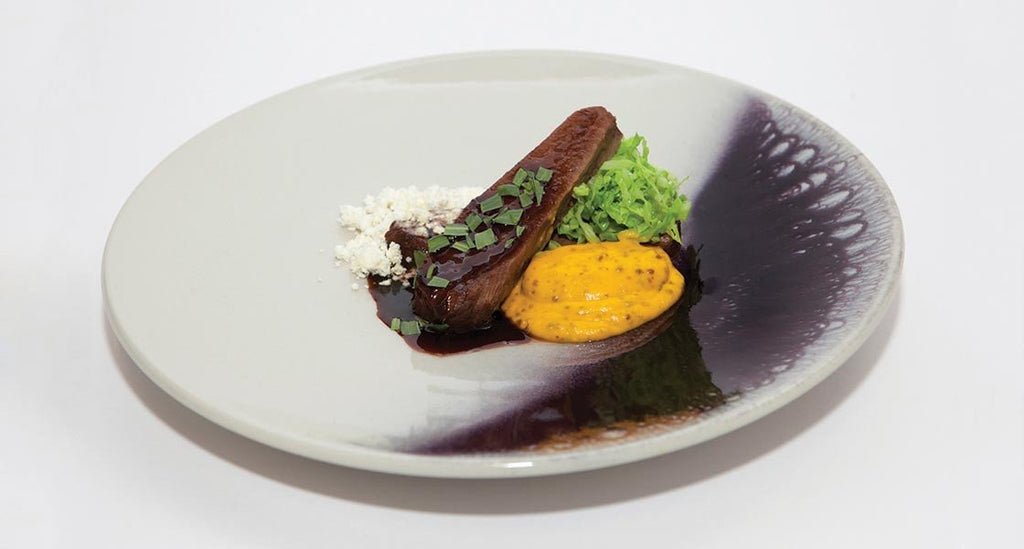 Ingredients
2½ lbs. beef short ribs (4 ribs)
6 oz. horseradish, peeled and cut into chunks
½ cup vegetable oil
3 to 5 tbsp. cornstarch
1 cup dry red wine
½ cup beef stock or broth
1 lb. carrots, chopped (about 4 large)
⅓ cup chicken stock or broth
1½ tbsp. whipping cream
2 tbsp. Maille Chablis Mustard or to taste
½ tsp. Maille Wholegrain Mustard
Preparation
Cover short ribs with water in dutch oven or heavy-duty sauce-pot. Bring to a boil over high heat. Reduce heat to low and simmer covered 3 hours and 30 minutes or until short ribs are tender, adding water as needed to keep ribs covered with water. Remove short ribs and keep warm.
Process horseradish with vegetable oil in food processor to make a paste. Strain horseradish, using strainer lined with cheesecloth or paper towels, reserving oil. Process reserved oil with 3 tablespoons (adding more if necessary) cornstarch in blender until powdery.
Bring red wine and beef stock to a boil in small saucepan. Cook over medium-high heat until reduced to thin gravy; set aside.
Bring carrots, chicken stock and heavy cream to a boil. Reduce heat to low and simmer until carrots are tender, about 20 minutes. Drain, reserving liquid. Process warm carrots in blender until smooth, adding reserved liquid as needed to create a puree. Stir in Maille Mustards to taste; set aside.
Boil cabbage in lightly salted water until tender, about 4 minutes. Drain and keep warm.
To serve
Arrange hot short rib on each plate. Drizzle with hot red wine sauce, then add carrot puree, warm cabbage and horseradish.  Garnish, if desired, with chopped tarragon.
---