Beef Skillet Pie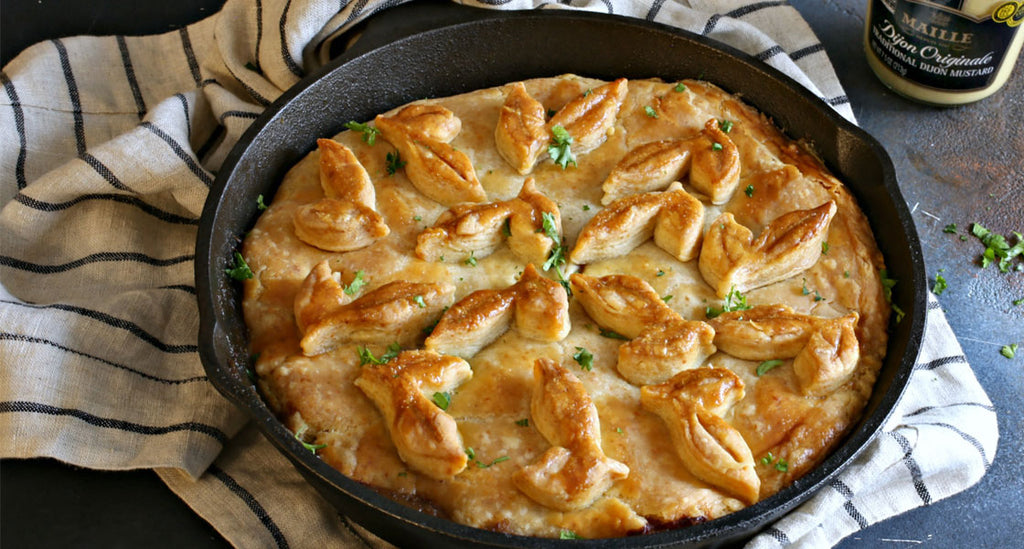 Recipe by: HungryCoupleNYC
Prep Time: 30 minutes
cook Time: 45 minute
Total time : 1 hour 35 minutes
Ingredients
For the Crust:
1 1/2 Cups all-purpose flour
1/2 Teaspoon salt
1/4 Teaspoon baking powder
6 Tablespoons unsalted butter, chilled and cut into 1" pieces
2 Tablespoons shortening, chilled
1 Teaspoon Maille Dijon Originale Mustard
1/2 Cup shredded sharp cheddar cheese
1/4 Cup ice water
For the Filling:
1 lb. Ground beef
2 Tablespoons unsalted butter
1 Onion, peeled and diced
2 Carrots, peeled and diced
1 Red bell pepper, diced
2 Tablespoons all-purpose flour
1 Cup low-sodium beef stock
1/4 Cup milk
1 Tablespoon Maille Dijon Originale Mustard
1 Teaspoon salt
1/2 Teaspoon ground black pepper
1/4 Cup chopped fresh parsley
1 Egg beaten with 1 tablespoon of water for brushing over pastry
Preparation
Add the all-purpose flour, salt, baking powder, unsalted butter and shortening to a food processor. Pulse a few times until the mixture resembles coarse crumbs. Add the mustard and cheddar cheese and pulse a few more times. Pour in the ice water and pulse until the mixture forms a dough ball. Cover with plastic wrap and refrigerate for at least an hour.
Add the ground beef to a large oven-proof skillet or cast iron pan (I used a 10" cast iron) and brown for a few minutes. Remove the beef to a plate but leave any grease in the pan.
Add the butter to the pan along with the diced onions, carrots and bell pepper. Cook on medium heat for a few minutes until the vegetables soften. Stir in the flour and then slowly stir in the beef stock, milk, mustard and salt.
Add the ground beef back into the pan and continue cooking for a few minutes until the mixture begins to thicken. Remove from the heat and stir in the parsley.
Pre-heat the oven to 375 degrees.
On a well floured surface, roll out the dough to a 10" round and place on top of the beef mixture in the pan. Cut a couple of slits, brush with the egg wash and bake in the oven for approximately 45 minutes or until the pastry is lightly browned.
---