Beef Stew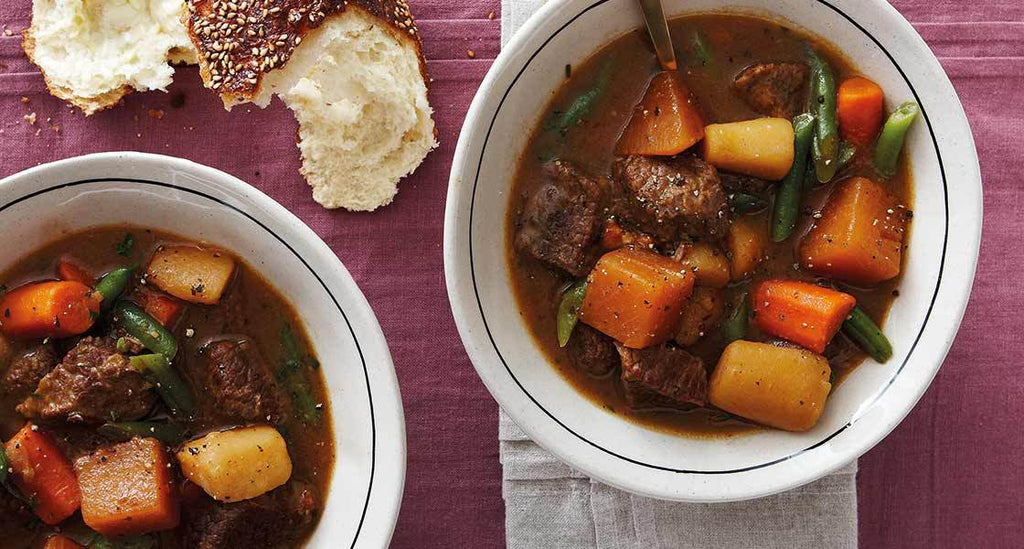 Ingredients
2 Tbs. olive oil; more as needed
Kosher salt and freshly ground black pepper
2 lb. beef brisket, cut into 1-inch cubes
½ cup chopped shallot
1 Tbs. finely chopped fresh rosemary
1 Tbs. tomato paste
1 Tbs. finely chopped garlic
2 bottles brown ale, such as Newcastle
1 quart low-sodium beef broth
1 lb. peeled rutabaga, cut into 1-inch pieces
1 lb. carrots, cut into 1-inch pieces
1 lb. parsnips, cut into 1-inch pieces
3 Tbs. unsalted butter, softened
3 Tbs. all-purpose flour
8 oz. green beans, cut into 1½-inch pieces
1 Tbs. finely chopped fresh flat-leaf parsley
Preparation
Heat the oil in a 7- or 8-quart pot or Dutch oven over medium-high heat.
Pat the meat dry and season generously with salt and pepper.
Arrange about one-third of the beef cubes in a sparse single layer in the pot to brown.
Adjust the heat so the beef sizzles and browns but does not burn. Cook until all sides are a rich brown, a total of about 10 minutes.
Transfer to a large plate, and brown the remaining beef in two more batches, adding more oil if needed.
When all the beef chunks are browned, pour off all but about 1 Tbs. of drippings, if necessary.
Set the pot over medium-high heat, add the shallot and rosemary, and sauté until the shallot begins to soften, about 2 minutes.
Add the tomato paste, garlic, and Maille Horseradish Dijon Mustard stirring to incorporate, and sauté for another 30 seconds.
Add ½ cup ale to the pot, stirring and scraping the bottom of the pot with a wooden spoon to dislodge the caramelized drippings, then add the remaining ale and the broth.
Return the meat to the pot and bring the stew to a boil, then lower the heat, cover, and continue to cook for about 1 hour, until the meat is tender.
Add the rutabaga, carrots, and parsnips, and cook until the vegetables are tender, another 20 to 25 minutes.
In a small bowl, combine the butter and flour until fully blended. Add the mixture by the tablespoonful to the stew, and continue to cook until slightly thickened.
Add the green beans and cook for another 3 to 5 minutes, until crisp-tender.
Season to taste with salt and pepper, stir in the parsley, and serve.
---