Beet + Burrata Citrus Salad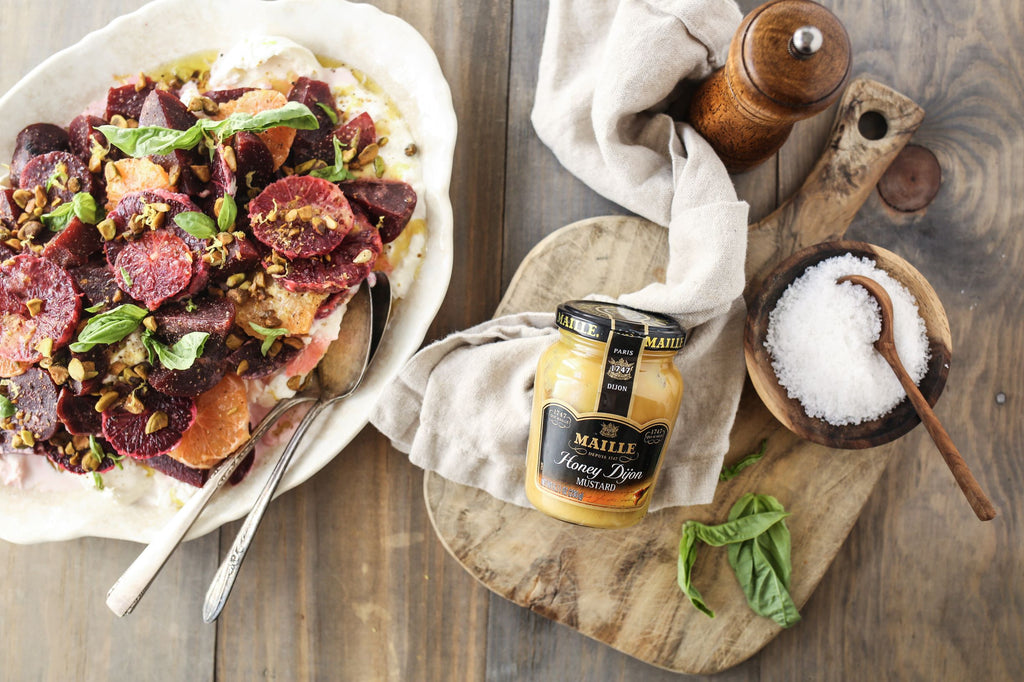 Recipe by: Alyssa Ponticello
Prep Time: 20 minutes
Cook Time: 45-60 minutes
Servings: 4-6 portions
Ingredients
6 medium-sized beets, tops and roots trimmed off
2 Tablespoons olive oil + more for roasting
Juice and zest of 1 medium-sized lemon
1 teaspoon Maille Honey Dijon Mustard
2 Blood oranges
1 Cara Cara orange
8 ounces Burrata cheese
¼ cup roughly chopped pistachios
Flaky sea salt
Fresh ground pepper
Fresh herbs, for garnish (basil, mint, thyme or rosemary are all great options)
Preparation
Preheat the oven to 400 degrees.
Place a large piece of foil on a baking sheet, then add the beets to the center of the foil. Drizzle generously with olive oil and sprinkle with salt, then seal the foil up around the beets to form a packet. Roast until the beets are tender and can easily be pierced with a knife, about 45-60 minutes. Unwrap the beets and allow them to cool slightly. Then use your fingers to rub off the skins. Cut the beets into quarters and set aside.
While the beets are roasting, in a small bowl, whisk together the 2 tablespoons of olive oil, lemon juice and Maille Honey Dijon Mustard
Peel the oranges and remove any pith, then carefully slice them crosswise into about ¼" slices.
To assemble the salad, place the burrata on a serving dish and gently break it up. Layer the beets and orange slices on top. Drizzle with the dressing then sprinkle the pistachios and lemon zest on top. Finish with sea salt, fresh ground pepper, and plenty of fresh herbs.
---