Berry Salad, Strawberry Vinaigrette and Almond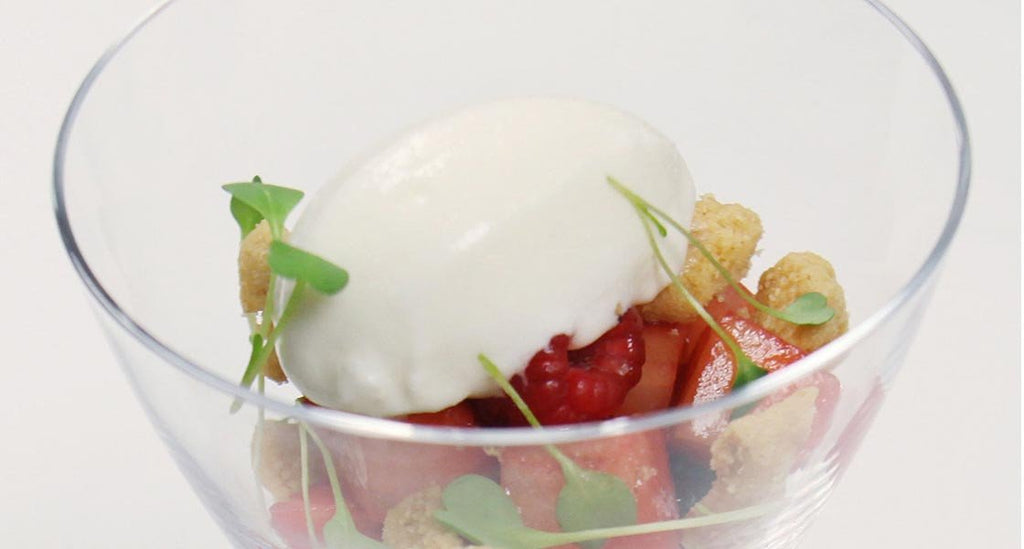 Ingredients
1 pint (2 cups) strawberries, stems removed
1½ tbsp. PLUS ¼ cup sugar, divided
¼ cup all-purpose flour
¼ cup ground almonds
½ tsp. salt
4 tbsp. unsalted butter, softened
2 tbsp. olive oil
2 tsp. Maille Sherry Vinegar
4 cups strawberries, raspberries and/or blackberries
Arugula leaves (optional)
Preparation
Combine strawberries with 1½ tablespoons sugar in medium bowl; cover tightly with plastic wrap. Arrange bowl over saucepan with simmering water and let cook 1 hour. Remove bowl carefully from heat and strain liquid into a bowl. (Let drip for a few hours, or press juices through with back of a spoon.) Set aside.
Combine flour, almonds, remaining ¼ cup sugar and salt in medium bowl. Cut in butter with pastry blender or two knives until coarse crumbs form. Press into a dough and cover with plastic wrap; chill about 4 hours or until firm.
Preheat oven to 325∘. Line baking sheet with parchment paper.
Cut dough into ½ -inch cubes and arrange on prepared baking sheet. Bake 14 minutes or until cooked and slightly golden. Cool on wire rack.
Combine ⅓ cup strained strawberry liquid, olive oil and Maille Sherry Vinegar in small bowl with wire whisk; set aside.
Combine berries with just enough Vinegar dressing to coat.
To serve
Arrange berries in 4 stemmed glasses, then sprinkle with almond crumble.

Garnish, if desired, with spoonful of frozen vanilla yogurt and arugula leaves brushed with remaining Vinegar dressing.
---