Brussel Sprout Pasta Recipe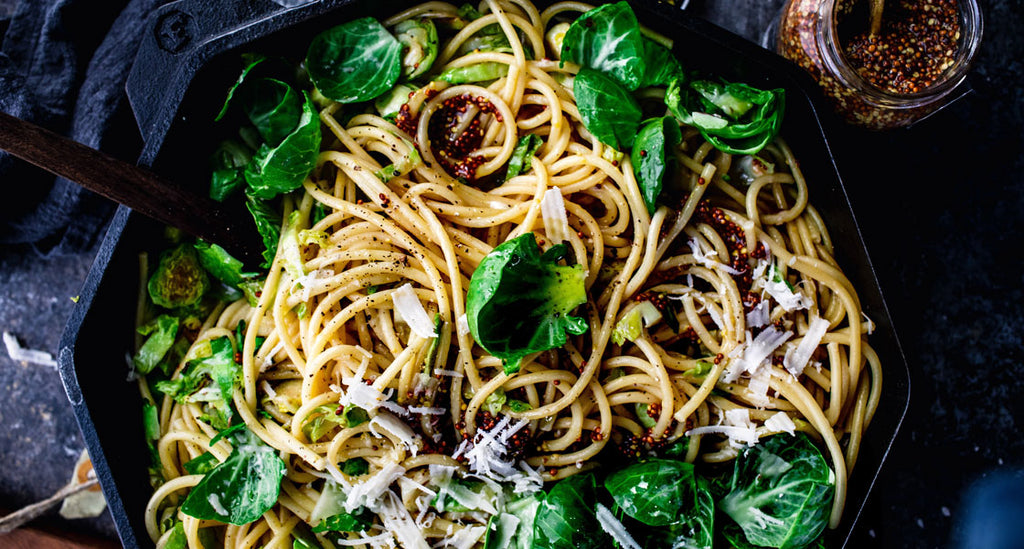 Recipe by: PlatingsandPairings
Prep Time: 15 minutes
Cook Time: 15 minutes
Servings: 6
Ingredients
12 ounces bucatini or linguine
2 Tablespoons olive oil
3 garlic cloves, minced
1 pound Brussels sprouts, thinly sliced, some outer leaves reserved for serving Kosher salt and freshly ground black pepper
4 Tablespoons unsalted butter
1/4 cup Maille Old Style
1/3 cup grated Pecorino Romano cheese, plus more for serving
1 lemon, zested and juiced
Lemon wedges, for serving
Preparation
Bring a large pot of salted water to a boil. Add pasta and cook until al dente according to package directions. Drain, reserving 1 ½ cups pasta cooking liquid.
While the pasta cooks, heat 1 Tbsp. oil in a large skillet over medium-high heat. Add half of brussels sprouts and cook, stirring occasionally, until tender and browned, about 5 minutes. Transfer to a plate and season with salt and pepper. Add an additional 1 Tbsp. olive oil to the skillet and repeat with remaining brussels sprouts. Transfer to plate.
Add butter to the now empty skillet over medium heat. Once melted, add garlic and saute until fragrant and just beginning to brown, about 1 minute. Add pasta, brussels sprouts, reserved leaves, mustard, Pecorino Romano and ½ cup pasta water. Stir to coat the pasta, adding additional pasta water as needed to reach your desired consistency.
Off heat, stir in lemon juice and zest. Season with additional salt and pepper to taste.
Serve with lemon wedges and additional Pecorino Romano on the side.
---