Caprese Salad Wraps with Maille Old Style and Balsamic Dressing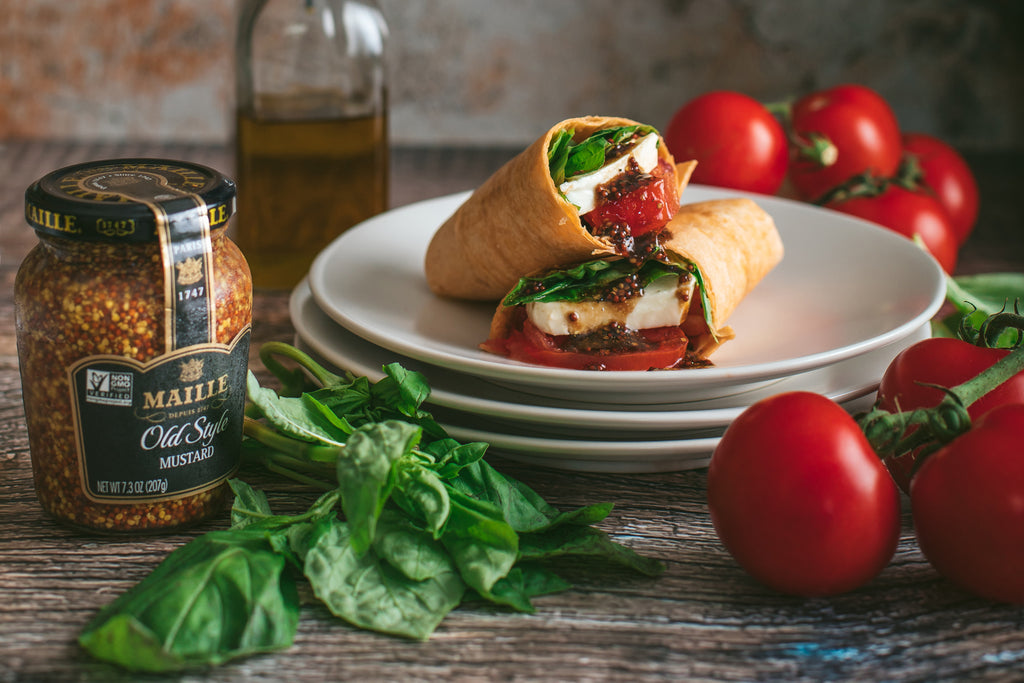 Ingredients
Sandwich
One bunch of basil (Genovese if available)
1 lb of vine-ripened tomatoes
8-10oz of fresh mozzarella
(2 ) 10" sandwich wraps
Dressing
2 Tbs Maille Old Style
2 Tbs balsamic vinegar
2 Extra Virgin Olive Oil
1/2 tsp. Honey (optional)
Salt and pepper to taste
Preparation
Mix all dressing ingredients and set them aside
Slice tomatoes and mozzarella 1/2 inch thick.
Coarsely chop basil or use the whole leaf
Layout sandwich wraps and layer one column of mozzarella vertically down the center of the wrap, slightly overlapping each piece.
Add tomatoes in the same fashion
Sprinkle with salt and fresh black pepper to taste.
Drizzle with prepared dressing to taste
Layer basil
Fold to wrap inward 2 inches starting at the bottom and top of ingredients column.
Maintaining the two folds turn to wrap counterclockwise fold bottom edge covering all the ingredients completely. Tuck the covered ingredients and continue to roll until your wrap is secure. Cut in half and serve.
Enjoy!
---