Caramelized Onion and Gruyere Mini Galettes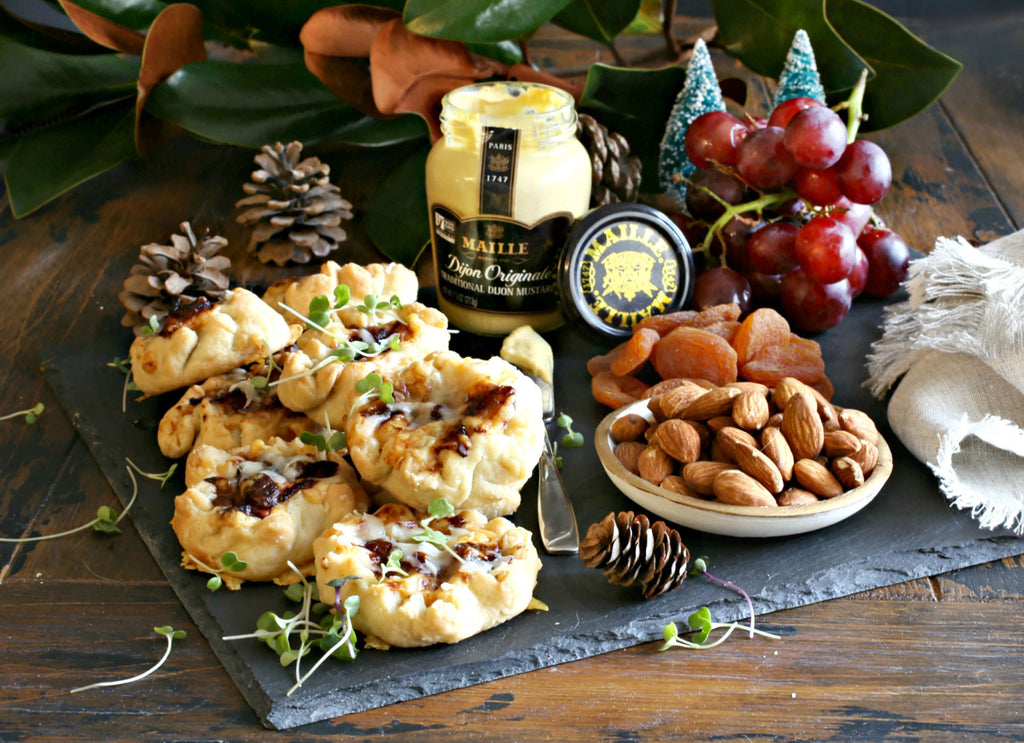 Recipe by: HungryCoupleNYC
Prep Time: 20 minutes
Cook Time: 1 Hour 15 minutes
Inactive Time: 1 Hour to refrigerate dough
Servings: 12
Ingredients
For the pastry:
1 1/2 Cups A.P. flour
1 stick (8 Tbsp) Unsalted Butter, Chilled and Cut into 1 in. Pieces
1 Tbsp extra virgin olive oil
1/2 teaspoon salt
3 - 4 Tbsp Ice Water
For the filling:
1 Large sweet onion, peeled and diced
1 Tbsp olive oil
1 Tbsp butter
1 Tbsp Worcestershire Sauce
1 Tablespoon Maille Dijon Originale
1 cup Shredded Gruyere cheese
Preparation
Add the all-purpose flour, butter, olive oil, mustard and salt to a food processor. Pulse about 20 times until the dough resembles coarse crumbs. With the machine running, begin to add the ice water through the feed tube until the dough comes together into a ball. Wrap in plastic and refrigerate for at least one hour.
While the dough is chilling, make the caramelized onions by adding the butter, olive oil and onions to a large skillet or cast iron pan. Cook on medium low heat, stirring occasionally, for about 30 to 45 minutes or until the onions develop a rich brown color. Stir in the Worcestershire sauce and remove from the heat.
Preheat the oven to 400 degrees.
Roll out the dough on a floured surface and cut out rounds. I used the base of a mini tart pan to cut out 4" rounds. Spread each round with about a teaspoon of mustard and a tablespoon of caramelized onions.
Top with a handful of the grated cheese and fold up the edges.
Place on a baking sheet lined with parchment paper and bake for approximately 30 minutes or until the cheese has melted and the pastry is a light golden brown. Serve warm.
---