Caramelized Onion, Bacon, & Goat Cheese Puff Pastry Squares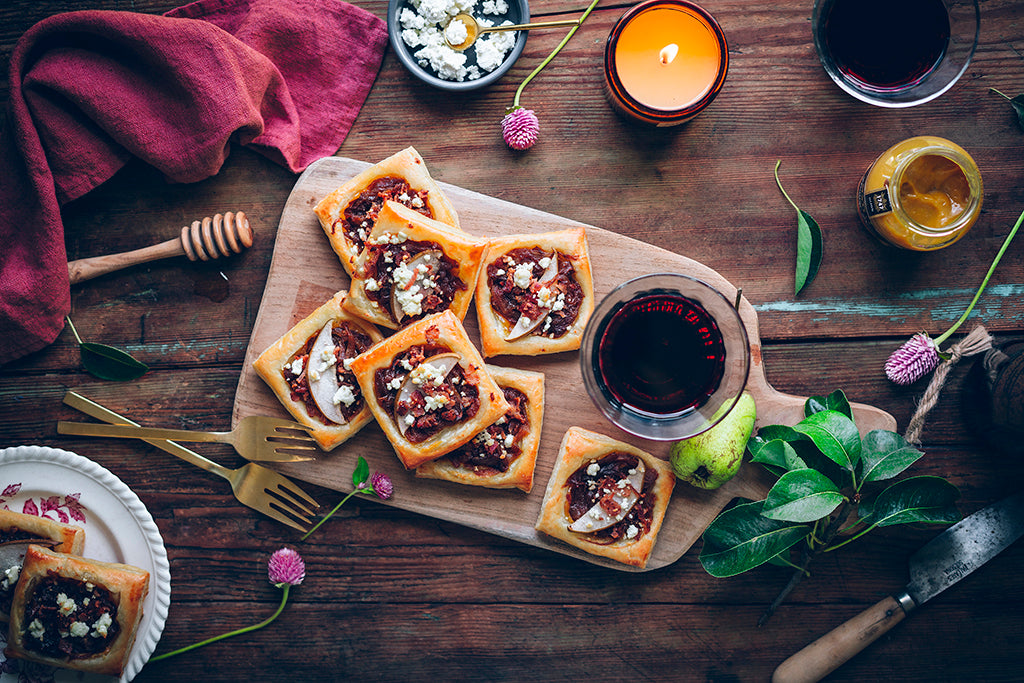 Ingredients
1 Puff pastry sheet, thawed
3 strips bacon, cooked and chopped
1 ½ tbs unsalted butter
2 medium yellow onions, thinly sliced ¼'' - ⅛'' thick
Crumbled goat cheese
½ small d'anjou pear, thinly sliced
kosher salt, as needed
1 egg + 2 tsp water, whisked
Preparation
Begin by caramelizing the onions. Melt the butter in a heavy bottomed sauté pan, or in a large skillet set over medium-high heat. Add the sliced onions and a pinch of salt, and stir to coat onions with butter. Spread the onions out in an even layer, and reduce heat to medium low. 
Cook the onions for about 35 minutes, stirring every 10 minutes or so. If spots on the bottom of the pan begin to burn a bit, simply splash with a little water or chicken stock to add a little moisture.
Once the onions take on a lovely caramel color and jam texture, remove from heat and transfer to another bowl to cool slightly. 
Preheat oven to 400°F. Unfold the pastry sheet on a piece of parchment paper and cut into 9, 3x3'' squares. Next, use the tip of a sharp knife to lightly score a ½'' edge inside each square, essentially tracing out a smaller square. This will create a pocket for a yummy filling. Transfer the parchment paper to a baking sheet.
Using a pastry brush, brush a scant 3/4 tsp of Maille Honey Dijon Mustard in the center of each inner square. Place 1 slightly heaped tablespoon of caramelized onions on each square. You may need to flatten the onions slightly, just make sure to keep the filling inside the small square. 
Divide the chopped bacon evenly between each square, and if using a pear place one slice right on top, then sprinkle with a bit of goat cheese. Use a clean pastry brush to brush the edge of each square with egg wash. Place in the oven and cook for about 16 minutes, or until golden brown and crisp. Enjoy warm!
---