Caramelized Red Onion Tarts, Balsamic Vinegar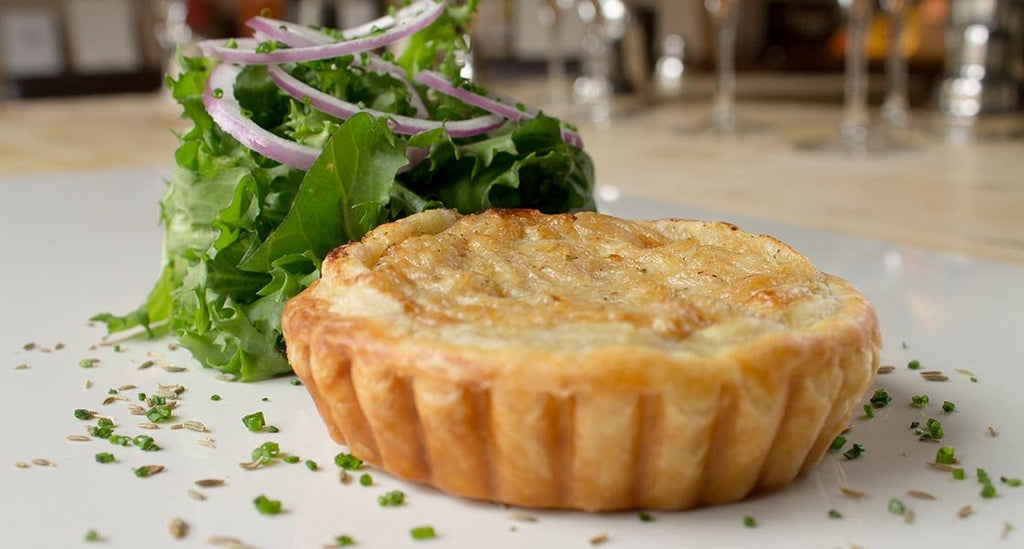 Ingredients
1 cup all-purpose flour
Pinch of salt
½ cup unsalted butter, cut-up and softened
2 to 3 tbsp. cold water
2 tbsp Extra Virgin Olive Oil
3 large red onions, thinly sliced
2 tbsp. Maille Balsamic Vinegar
1 cup grated parmesan cheese
⅓ cup soft cheese (such as mascarpone, ricotta or feta)
1 large egg, slightly beaten
5 oz. thick-cut bacon, crisp-cooked and crumbled
Eric Gauthier
Head chef and owner of Ateliers & Saveurs, Éric Gauthier created in 2008 an unique concept in Québec: gather in one place cooking, cocktails and wine tastings classes available for everyone. Eager for discoveries, Éric, full of energy, gets his inspiration through his meetings and journeys to bring soul to his creations.
Preparation
*Don't have individual tart pans? You can use a 9 in. tart pan instead.
Combine flour with salt in large mixing bowl. Cut in butter with pastry blender or two knives until mixture is size of small peas. Stir in just enough cold water to form a dough. Wrap in plastic wrap and refrigerate until firm, about 30 minutes.
Preheat oven to 400°.
Grease 4 (4 ½ in.) individual tart pans*. Divide dough into 4 portions and press onto bottom and up sides of prepared pans. Line with aluminum foil or parchment paper and fill with pie weights or dry beans partially up sides. Bake until golden brown, about 15 minutes. Remove to wire rack to cool.
Heat Olive Oil in large skillet and cook onion over medium-low heat, stirring occasionally, until onions are golden brown, about 20 minutes. Stir in Maille Balsamic Vinegar; set aside.
Beat cheeses with egg, then stir in bacon. Fill baked tarts with egg mixture, then top with onion mixture.
Bake until knife inserted in centers comes out clean, about 20 minutes.
To serve
Drizzle, if desired, with Maille Walnut Oil.
---