Caribbean Style Braised Chicken with Chickepeas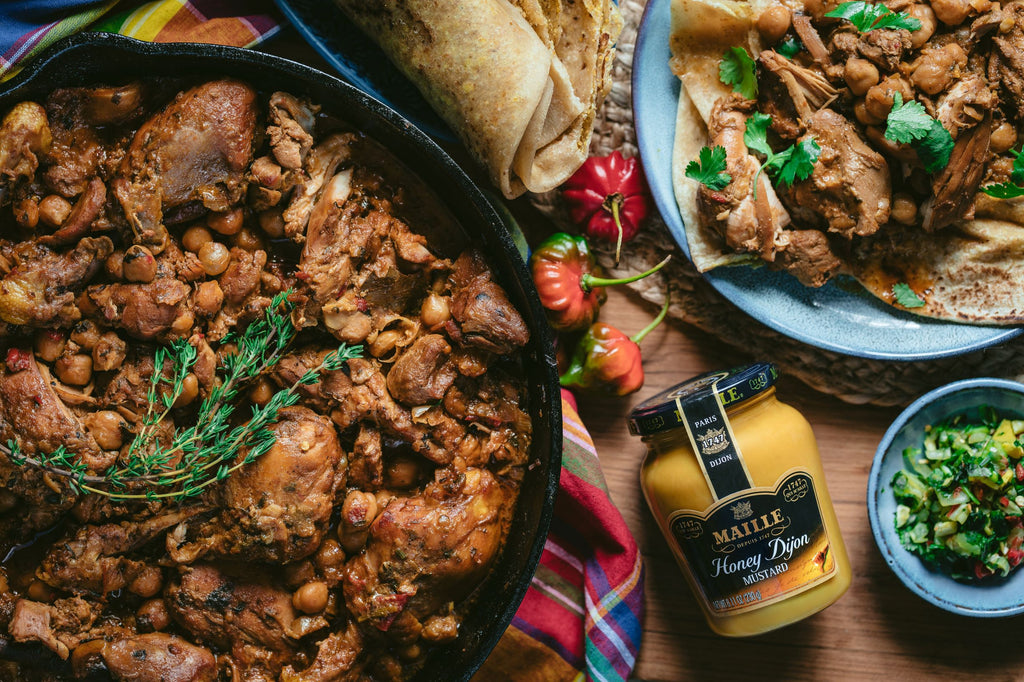 Prep Time: 20 minutes
Cook Time: 1 hour
Servings: 6-8
By:
The Quiingredient 
Ingredients
For the Marinade:
4 lbs bone-in, skin-on, chicken (legs, thighs, breasts)
2 Tbsp Maille Honey Dijon Mustard
2 Tbsp Worcestershire Sauce
1 Tbsp Brown Sugar
1 Tbsp Salt
1 tsp pepper
For the Seasoning Blend:
2 cloves of garlic
1 small onion chopped
3-4 sweet peppers (not hot)
2 tsp ginger
1/3 cup cilantro
1/3 cup parsley
2 celery sticks
2 green onion
For the Braise:
1 Tbsp oil
1 tsp of curry powder
1.5-2 cups of water
Remaining marinade
1-2 Tbsp of Ketchup
1 medium tomato chopped
3 sprigs of thyme
1 bay leaf
1 can of chickpeas drained and rinsed
Preparation
Preheat the oven to 350°.
For the Marinade:
Rinse chicken pieces and pat dry. Set aside.
In a medium mixing bowl, add ALL Marinade ingredients; 2 tablespoons of Maille Honey Dijon Mustard, 2 tablespoons of Worcestershire sauce, 1 tablespoon of brown sugar.
Mix ingredients together, then add chicken pieces and coat evenly. Season with salt and pepper. Set aside to marinate 10-15 minutes.
For the Seasoning Blend:
Using a small food processor or blender, add ALL seasoning blend ingredients, 2 cloves of garlic, 1 small onion, 2 teaspoons of ginger 3-4 Sweet peppers, 1/3 cup cilantro, and 2 green onions coarsely chopped, and 1 tablespoon of oil. Blend until finely minced. Set aside.
Baking:
On a large baking pan, add chicken pieces skin side up, spacing them apart evenly.
KEEP REMAINING MARINADE. Set aside.
Increase temperature to 425° and bake for 20- 25 minutes or until chicken skin is brown
Remove chicken from the oven and set aside.
Braising:
On your stovetop, begin to heat a large cast-iron pan or Dutch Oven over medium-low heat.
Add 1Tbs oil and 1tsp curry powder and cook for 30 seconds. Next, add the Seasoning Blend mixture and sautee for 1 minute.
Reduce heat to low and add your chicken pieces and pan drippings to the pot.
Add 1.5-2 cups of water to the remaining marinade, mix and add to the pot.
Separately add Ketchup, tomatoes, thyme, and bay leaf, and chickpeas. Increase the heat to medium and bring to a boil.
Reduce heat to a simmer, cover pot with lid, and cook for 30-40 min or until chicken is tender and falling off the bone.
Serve with Roti wraps, Nan, or white rice
---