Carrot Dogs with White Bean Relish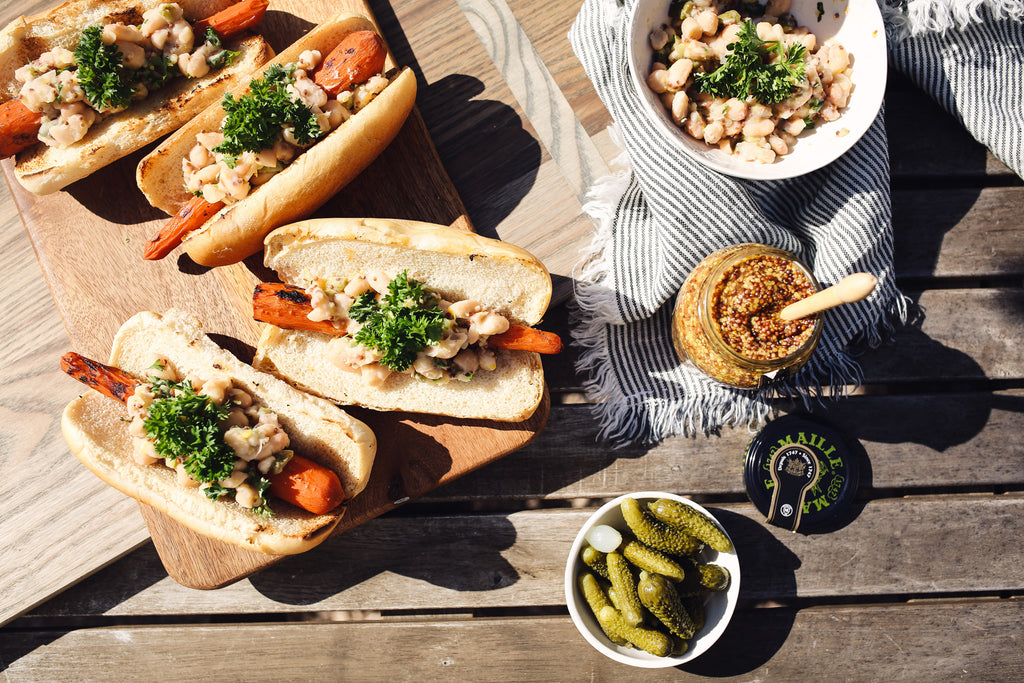 Recipe created by: RunwayChef
Yields: 8 carrot dogs
prep time: 15 minutes
cook time: 30 minutes
Ingredients
Carrot Dogs
8 large carrots, peeled and ends trimmed
2 cups water
1/4 cup soy sauce
1 tablespoon Worcestershire sauce
1/2 tablespoon Maille Dijon Originale
2 tablespoons brown sugar
1 teaspoon salt
1 teaspoon paprika
1 teaspoon onion powder
White Bean Relish
15.5 ounce can white kidney beans, roughly chopped
1/4 jalapeno, finely chopped
1/4 cup finely diced Maille Cornichons (about 5-6 cornichons)
1 1/2 tablespoons Maille Old Style Dijon
2 tablespoons fresh parsley, finely chopped
Zest + juice of 1 lemon
1/2 teaspoon salt
Method
In a large pot whisk together the water, soy sauce, worcestershire sauce, Maille Dijon Originale, brown sugar, salt, paprika and onion powder. Place over high heat and bring to a boil. Add the carrots, cover the pan with a lid and turn the heat down to medium. Cook, stirring occasionally, for 13-15 minutes, or until the carrots can be pierced with a fork. Remove the carrots from the liquid and set aside.
Meanwhile, in a bowl, mix together the beans, jalapeno, diced Maille Cornichons, Maille Old Style Dijon, parsley, lemon zest and juice and salt.
Preheat your grill to medium-high heat. Grill the carrots for 7-10 minutes, or until they're charred and grill marks form. Optional- toast hot dog buns for 2-3 minutes, or just until golden brown.
Place the carrots in the buns, top each with a spoonful of white bean relish and serve immediately.
---