Carrot Top & Green Garlic Pesto Spiral Rolls With Prosciutto & Broccolini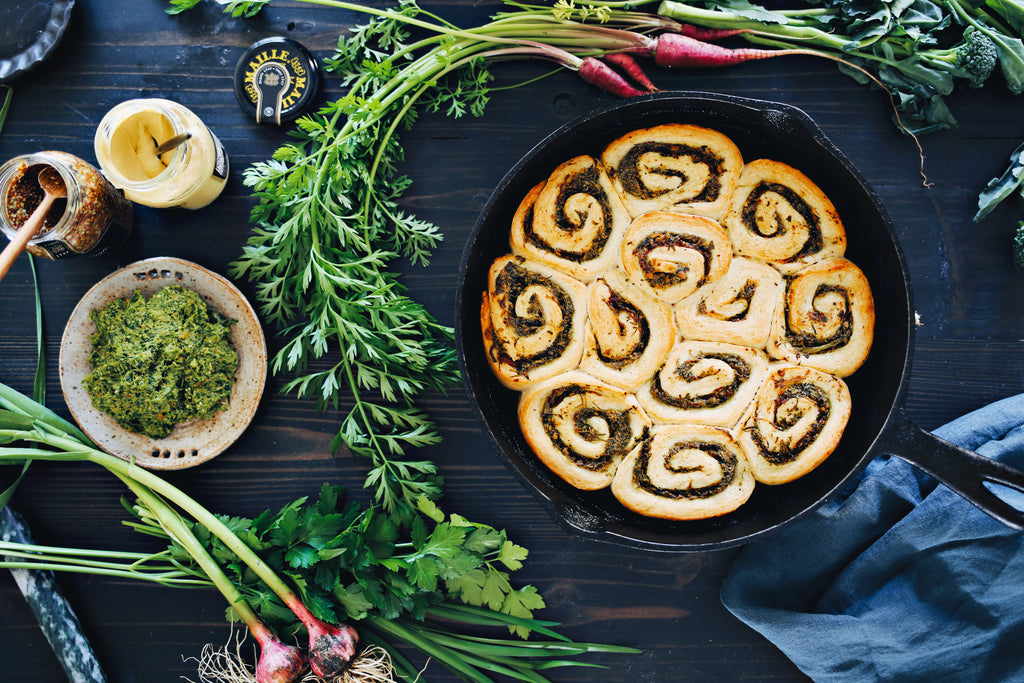 Recipe created by: Kristin Guy
Servings: 12 rolls
Ingredients
For the pesto:
1 bunch green carrot tops
1 small bunch parsley
1 small bunch basil
1 bunch chives (or spring garlic tops)
3-4 broccolini florets (with greens)
2-3 baby leeks or spring garlic bulbs (can be replaced with ramps)
¼ roasted pistachios (can be replaced with sunflower seeds or pine nuts)
¼ cup grated parmesan cheese
Zest and juice of one lemon
3-4 Tbsp olive oil
Fresh cracked pepper to taste
For the roll:
Preparation
For the pesto:
Bring a small pot of water to boil and quickly blanch broccolini florets and leaves, approximately 3 minutes, until bright green. Immediately remove and dunk in a bowl of ice water. Ring all water out completely before adding to pesto.
In a skillet with olive oil, saute chopped baby leeks and green garlic until golden. Remove and cool completely before adding to pesto.
Add all herbs, vegetables, nuts, cheese lemon and olive oil to a food processor and blitz until smooth.
Season with pepper and additional lemon juice as desired.
Serve immediately or store in the refrigerator in a seal container for up to 3 days.
For the roll:
Add yeast and sugar to warm water and allow to activate until foamy, about 3 minutes. In a food processor, fashioned with the dough hook attachment, add flour and salt. Slowly add yeast mixture and vegetable oil on medium speed, mixing for 5 - 10 minutes until dough is well formed and no flour is sticking to the sids.
Remove dough ball and allow to rise to twice the size in a well greased bowl for 2 ½ - 3 hours. Cover with plastic wrap or a damp cloth.
Roll out dough into a 12 x 6 rectangle on a lightly floured surface. Add a layer of Maille Traditional Dijon Originale Mustard and Maille Old Style Mustard), followed by a layer of pesto and prosciutto. Carefully roll lengthwise, placing seam side down. Using a serrated knife, cut into 1 inch slices - wiping blade between each slice for a clean cut.
Place rolled dough slices into an oiled cast iron skillet or glass pie pan, cover and allow to rise for an additional 30 minutes.
Preheat oven to 350F. Brush tops of rolls with melted butter and bake for 30-45 minutes until golden. If using a cast iron skillet, rolls will bake quicker than glass. 
---