Cauliflower & Cheddar Soup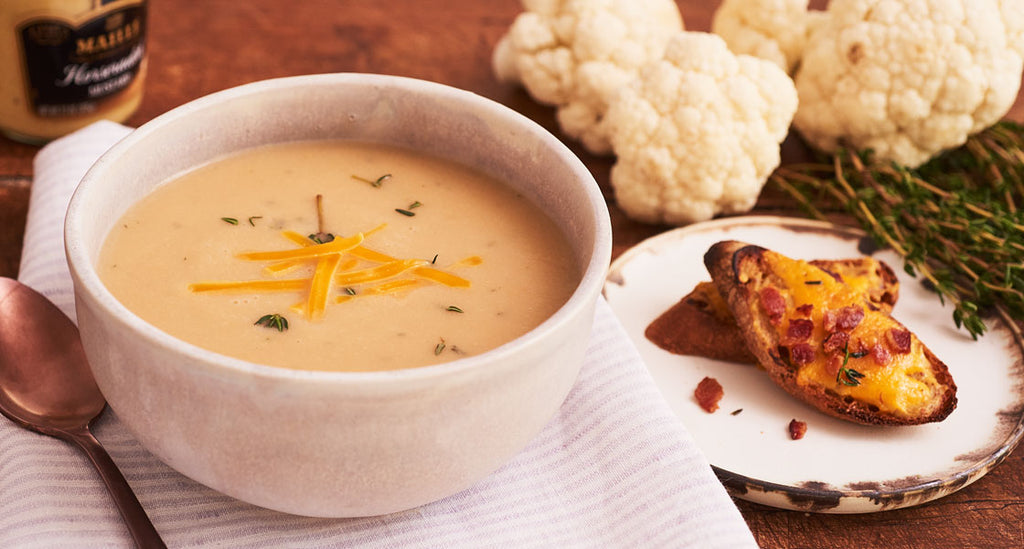 Recipe by: Jen May
Servings: 8
Ingredients
1 tbsp. olive oil
1 medium onion, sliced (about 1 cup)
7 cups water
2 tbsp. Knorr® Selects Vegetable Bouillon
1 large head cauliflower, cored and coarsely chopped (about 8 cups)
1 ½ cups shredded cheddar cheese
1 tsp. chopped fresh thyme
Directions 
Heat oil in a large pot over medium heat and cook onion, stirring occasionally, until golden, about 15 minutes.
Add water, Bouillon and cauliflower and bring to a boil. Reduce heat and simmer until cauliflower is tender, about 30 minutes.
Puree mixture in pot with immersion blender, or let cool slightly then puree in batches in blender. Stir in cheese, Maille® Horseradish Mustard and thyme.
Serving Suggestion:
Toast baguette slices, then spread with Maille® Horseradish Mustard and sprinkle with thyme leaves. If desired, sprinkle with shredded cheddar and crumbled bacon. Broil one minute.
---