Charred Eggplant with Za'atar and Yogurt Mustard Tahini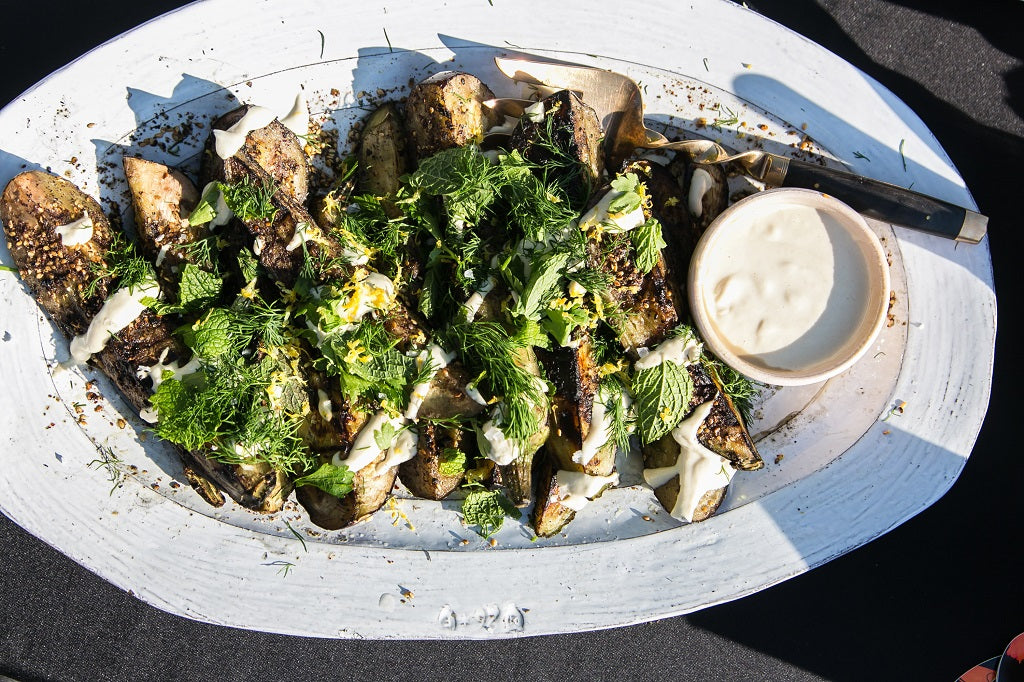 Recipe by Eyeswoon
Serves: 4-6
Ingredients
For the yogurt tahini sauce:
¾ cup plain full-fat Greek yogurt 
½ cup tahini 
1 clove garlic, minced 
3 tbsp fresh lemon juice 
1 tsp honey 
2 tbsp extra-virgin olive oil Kosher salt  
For the eggplant:
3 Italian eggplants, quartered length wise
⅓ cup extra-virgin olive oil
1 tbsp za'atar, plus more for sprinkling
Salt and freshly cracked pepper
1 lemon, zested and juiced
Yogurt - mustard tahini sauce, for drizzling and serving
1 handful torn fresh herbs such as parsley, mint, and dill for serving
Preparation
For the yogurt tahini sauce:
In a medium bowl, whisk together ⅓ cup water, the yogurt, tahini, garlic, lemon juice, mustard, honey and oil until soothed.
Add extra water or lemon juice to make thinner for drizzling
For the eggplant:
Preheat the grill over medium-high heat to about 400F
Drizzle the oil evenly over the eggplant and toss to coat
Sprinkle it with za'atar and season with salt and pepper. Rub the seasonings into the eggplant, being careful to coat the pieces evenly.
Grill the eggplant on each cut side for 5-7 minutes. Turn it skin side down and grill for 2 minutes more, or until the eggplant has nice grill marks and is tender throughout.
Transfer the eggplant to a platter and drizzle it with the lemon juice, zest and some of the tahini sauce.
Scatter with the fresh herbs and sprinkle with sumac and more za'atar
Serve warm flatbread and extra tahini sauce on the side to use as a dip for raw veggies and flatbread. 
---