Cheese Stuffed Veggie Burger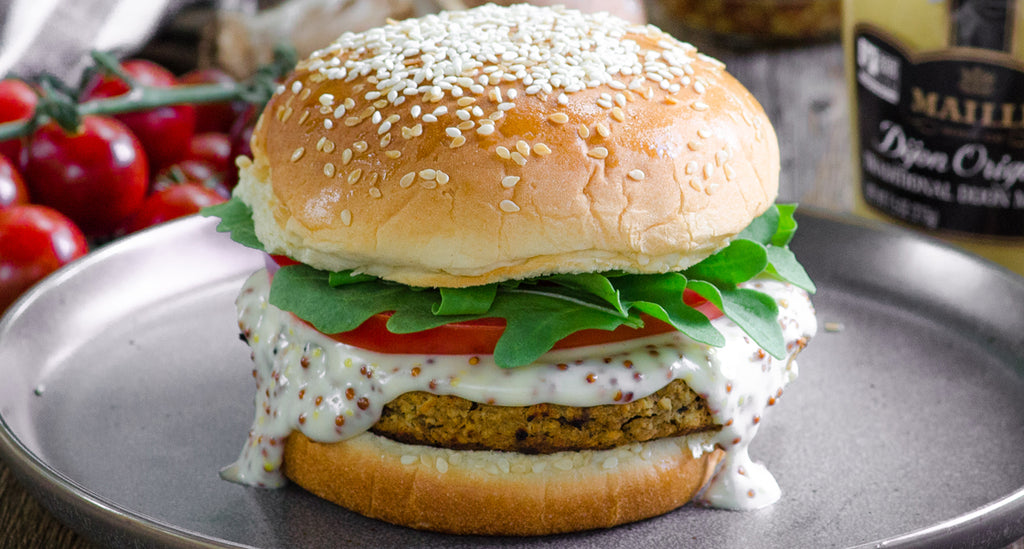 Recipe by: May I Have That Recipe
Prep Time: 20 minutes
Cook Time: 10 minutes
Brining Time: 4 hours
Servings: 4 burgers
Ingredients
For Cheese Stuffed Veggie Burger:
1 large Portabello cap, roughly chopped
1 - 15.5oz can organic chickpeas, rinsed and drained
1 cup rolled oats
2 tbsp. Maille Dijon Originale mustard
1 tsp. Hamburger or grilling seasoning
1 tsp. onion powder
1 tsp. Paprika
1 tsp. chili powder
¼ tsp. Garlic powder
¼ to ½ tsp salt (to taste)
8 tbsp. shredded cheese (vegan or dairy), divided (you'll need 2 tbsp. per burger)
4 hamburger buns
For Mustard Sauce:
Fixings:
Tomato
Lettuce, arugula or your favorite greens
Pickles
Preparation
Line a large baking sheet with parchment paper, and grease it well
Combine all the veggie burger ingredients, except the shredded cheese, in the food processor, and pulse until all the ingredients come together. Transfer to a large bowl
Divide the mixture in 4 equal pieces. Using your hands, take one of the pieces and form 2 patties, about 1/4 inch thick. Place one patty on the lined baking sheet and top it with 2 tbsp of shredded cheese (try to keep it in the center of the burger as much as possible).
Place the other patty on top, pressing the edges well and flattening it sightly, so the cheese is sealed inside. Repeat the process with the remaining 3 pieces of burger mixture, for a total of 4 burgers. Place the baking sheet in the refrigerator while you heat up the grill and prepare the sauce and fixings
Fire up the grill to medium-high. To prepare the sauce, place mayo, Maille Old Style Mustard and lemon juice in medium bowl and whisk well. Refrigerate until ready to use
Brush the burgers generously with oil, and place them on the grill for approximately 5 minutes per side (time may vary depending on your grill). Serve the burgers warm, topped with mustard sauce
Notes::
Burgers can be prepared up to 2 days ahead, an refrigerated until ready to use
Nutrition facts are for just the burger, using vegan cheese. For the sauce, add 71 calories per tablespoon.
---