Cheeseburger Salad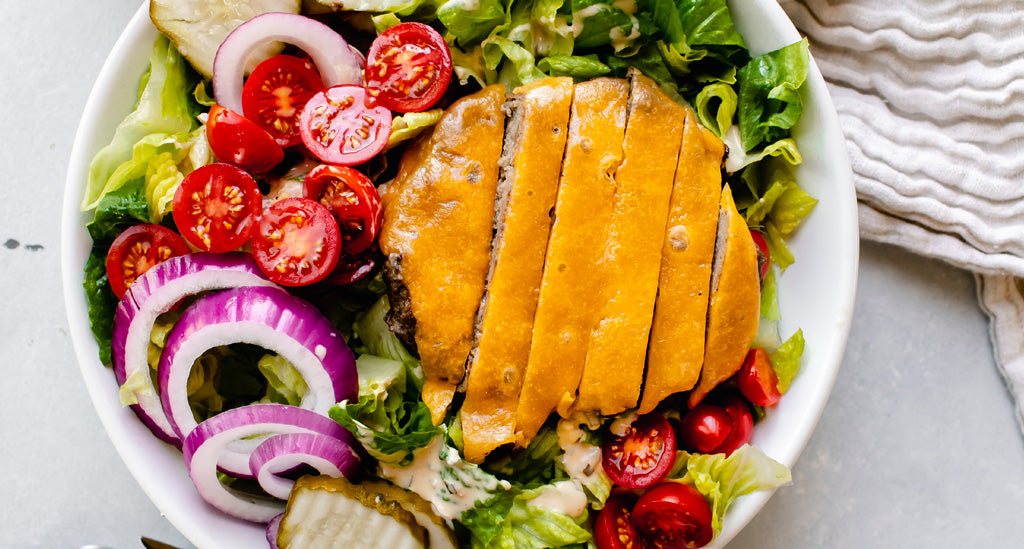 Recipe by: Platingsandpairings
Serving size: 4
Ingredients
DRESSING:
1/3 cup light mayonnaise
2 Tablespoons Maille Dijon Originale Mustard
2 Tablespoons pickle relish sweet or dill
1 Tablespoon olive oil
2 Tablespoons ketchup
2 Tablespoons red wine vinegar
1 teaspoon garlic powder
1 teaspoon onion powder
1 teaspoon paprika
Salt and pepper to taste
SALAD:
4 burger patties
4 slices sharp cheddar cheese
3 romaine hearts chopped
1 pint cherry tomatoes halved
½ red onion thinly sliced
Pickle slices
Preparation
Combine dressing ingredients in a small bowl and whisk together to combine.
Preheat grill or skillet over medium-high heat. Cook burgers until no longer pink, about 5 minutes per side. Melt cheddar slices on the burgers.
Evenly divide lettuce between four plates. Top with tomatoes, onions, and pickles. Slice burger patties and place them on top of each salad. Drizzle with dressing and enjoy.
---