Cherry Tomato Tart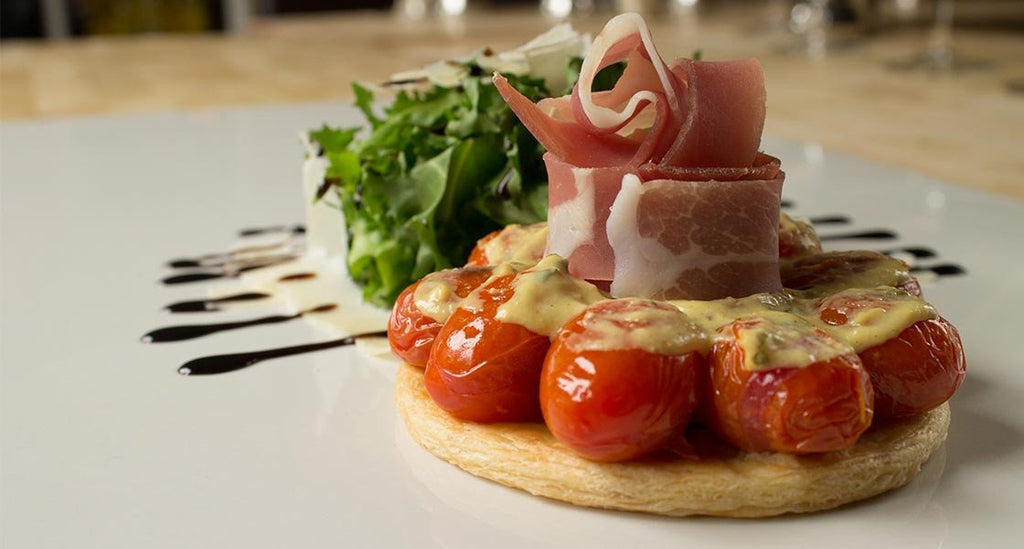 Ingredients
For the tart
1 sheet pre-packaged puff pastry, thawed (if frozen) and ready to prepare
2 tbsp. freshly grated Parmigiano Reggiano cheese
2 tbsp. Maille Dijon Originale mustard
2 fresh basil leaves, finely chopped
1 pint cherry tomatoes
1 red onion, finely chopped
6 sprigs thyme, finely chopped
1 egg yolk
4 thin slices of prosciutto
For the salad
Eric Gauthier
Head chef and owner of Ateliers & Saveurs, Éric Gauthier created in 2008 an unique concept in Québec: gather in one place cooking, cocktails and wine tastings classes available for everyone. Eager for discoveries, Éric, full of energy, gets his inspiration through his meetings and journeys to bring soul to his creations.
Preparation
For the tart
Cut 4 circles of puff pastry about 4 inches diameter in size; set aside. Combine cheese, Maille Dijon Originale mustard and basil in small bowl. Toss tomatoes with 1/2 of the mustard mixture, onion, and thyme in medium bowl.
Arrange puff pastry on baking sheet lined with parchment paper. Brush tops with egg yolk, then evenly spoon on tomato mixture. Bake 20 minutes until puff pastry is crispy.
For the salad
Add olive oil, Maille Old Style Mustard, Maille Old Style Mustard salt and pepper in small bowl. Pour vinaigrette over arugula and mix well.
Remove tarts from oven and arrange on dishes. Roll slices of prosciutto into a rose-shaped fashion and place onto top of pastry in a decorative manner, as desired. Gently spread remaining mustard mixture over tomatoes.
To serve
Serve each pastry with a side of arugula salad.
---