Chevre Apple Salad with Rosemary Honey Mustard Dressing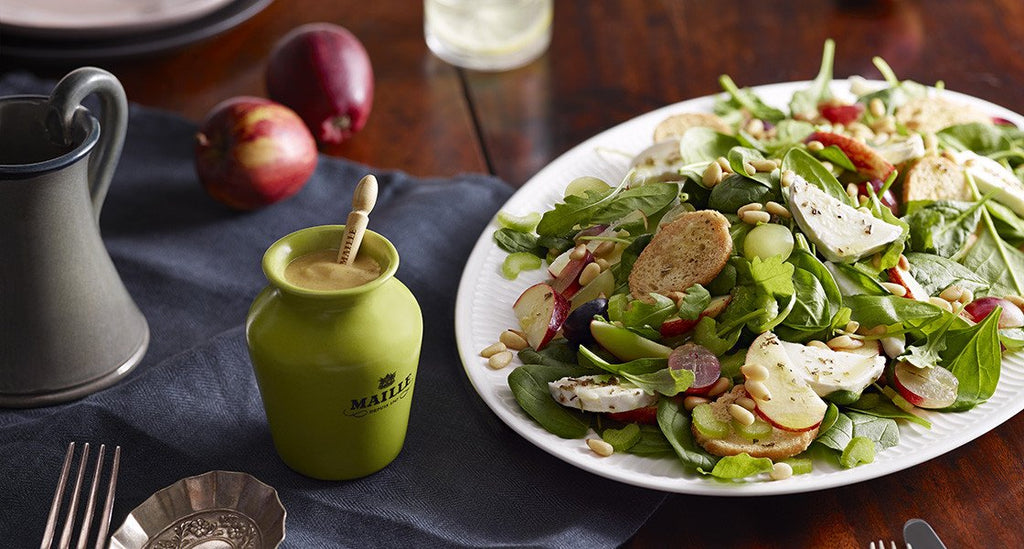 Ingredients
150g young spinach leaves
100g rocket
2 apples (ideally a tart apple, such as Gala or Braeburn), cored and sliced
2 tbsp lemon juice
2 sticks celery, thinly sliced
100g seedless red or green grapes, halved
2 x 100g French Chevre cheese, sliced
50g pine nuts
8 thin slices French bread
1 garlic clove, crushed
40g butter, softened
Dressing:
4 tbsp extra virgin olive oil
Pinch of Provencal dried herbs
2 tbsp Maille cider vinegar with honey or white wine vinegar
Pinch of salt and freshly ground black pepper
Preparation
Rinse the spinach leaves and rocket, drain thoroughly and share between 4 serving plates.
Toss the apple slices in lemon juice and arrange them on the salads with the celery and grapes. Cut the slices of Chevre in two, and arrange them on the salads.
Toast the pine nuts in a dry frying pan until light golden. Leave them to cool for a few moments, then sprinkle them over the salads.
Preheat the grill and toast one side of the French bread slices. Mix the garlic with the butter and spread over the untoasted sides of the bread. Toast the buttered sides until golden brown, cut into pieces, and serve on the salads. 
Make the dressing by mixing together the olive oil, Maille Rosemary Honey Mustard, Provencal herbs and Maille cider vinegar with honey , seasoning with a pinch of salt and black pepper.
Chef's Tips
Always add a couple of teaspoons of Maille mustard to your salad dressings – it tastes great, and helps bring the oil and vinegar together to make a smooth dressing.
---