Chicken à la Moutarde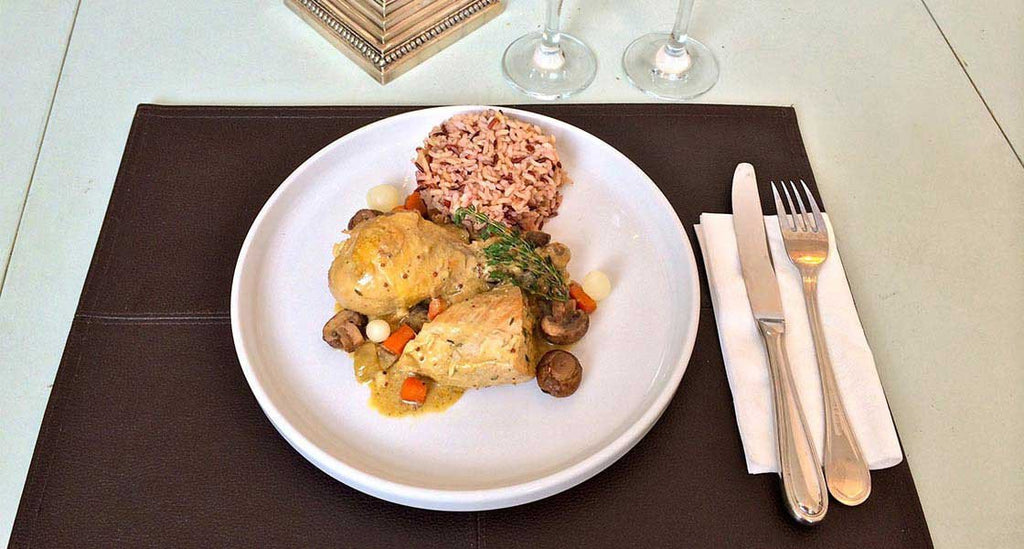 Ingredients
1 whole chicken, cut into 8 serving pieces (about 3 ½ to 4 lbs.)
3 tbsp. olive oil
3 tbsp. butter
Handful of fresh thyme
2 white onions, minced
1 cup of whole pearl onions (optional
1 cup coarsely chopped (or small whole) white mushrooms
2 carrots, diced
3 cloves garlic, finely minced
2 tbsp. flour
2 cups dry white wine
4 tbsp. Maille® Dijon Originale mustard
2 cups chicken stock
1 cup heavy cream
Chef Raphael Lambert
Originally from Monte Carlo, Chef Raphael Lambert began his career in the kitchen of Cassis, an illustrious restaurant located on the outskirts of Marseilles. He quickly learned the nuances of creating exceptional cuisine and went on to work at some of France's most acclaimed restaurants, from Guy Savoy and Le Jardin in Paris, to Michel Bras in Laguiole and Restaurant La Palme d'Or in Cannes.
Preparation
Preheat oven to 350°.
Season chicken with salt and pepper.
Heat olive oil in large skillet over medium-high heat and brown chicken on all sides.
Add butter and thyme to skillet and cook chicken a few more minutes until golden brown. Remove from skillet and set aside.
Sautée onions, mushrooms, carrots and garlic in same skillet until onions are caramelized.
Reduce heat to low, add flour and cook, stirring constantly, 1 minute. Stir in wine and Maille® Dijon Originale mustard and cook until sauce is smooth.
Arrange chicken, sauce, and vegetables in baking dish. Pour chicken stock over ingredients until pan is about ¾ full. Cover and bake 45 minutes or until chicken is thoroughly cooked. Stir in cream and cook an additional 5 minutes or until heated through.
Chef's tip
While this dish is traditionally served with white rice, may we suggest herbed polenta?
---