Chicken Apple Sausage Skillet with Cabbage and Potatoes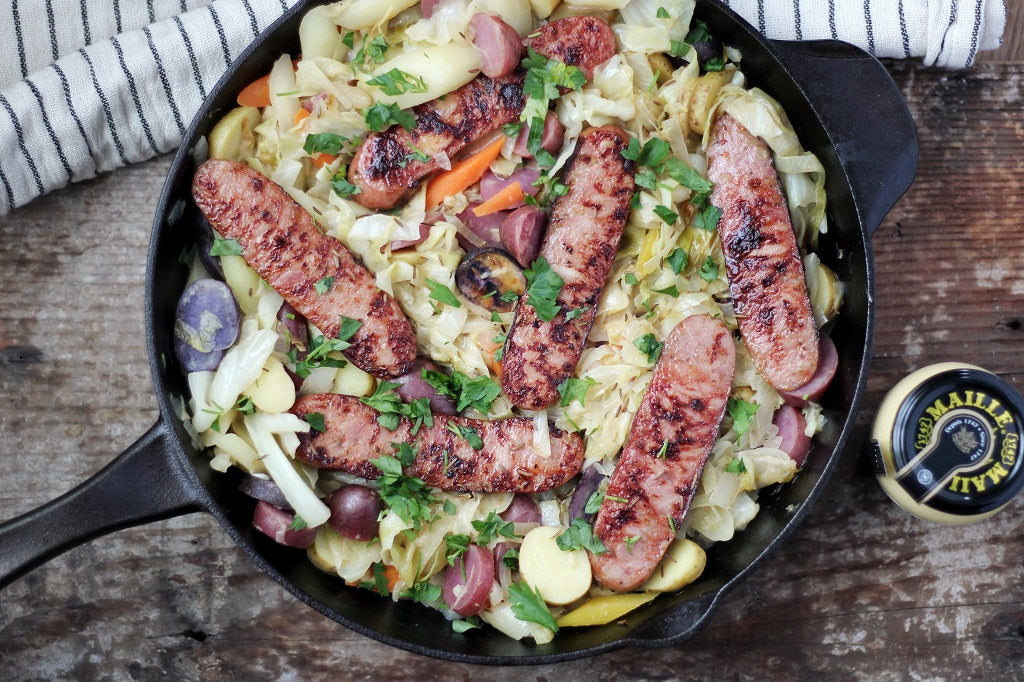 Recipe created by: Parsnips and Pastries
Servings: 4
Ingredients
1 tablespoon olive oil
4 chicken apple sausage links
2 tablespoons butter
1 yellow onion, quartered and thinly sliced
1/2 head green cabbage, quartered and thinly sliced
1 pound rainbow fingerling potatoes, sliced
3 carrots, peeled and sliced
1/2 cup white wine
2 tablespoons Maille Dijon Originale mustard
1/4 cup chicken broth
1/4 cup apple juice
1/2 teaspoon caraway seeds
1/4 cup chopped fresh parsley
Preparation
Heat a large skillet or Dutch oven over medium heat.
Halve the sausage links lengthwise.
Add the olive oil to the skillet and once hot, sear the sausage until browned on both sides and cooked through. Transfer to a plate and set aside.

In the skillet, melt the butter and add the onion and cabbage. Cook until golden, softened, and cooked down.

Add in the potatoes and carrots and cook until the vegetables are slightly caramelized and tender. Season with salt and pepper.
Deglaze the pan with the white wine and cook until it is reduced by half.
In a separate bowl, whisk together the Maille Dijon Originale mustard, chicken broth, and apple juice.
Add the sauce mixture to the pan along with the caraway seeds.
Cover the skillet and cook until all of the vegetables are tender.
Serve garnished with fresh parsley.
---