Chicken Ballottines with Blue Cheese and Vegetables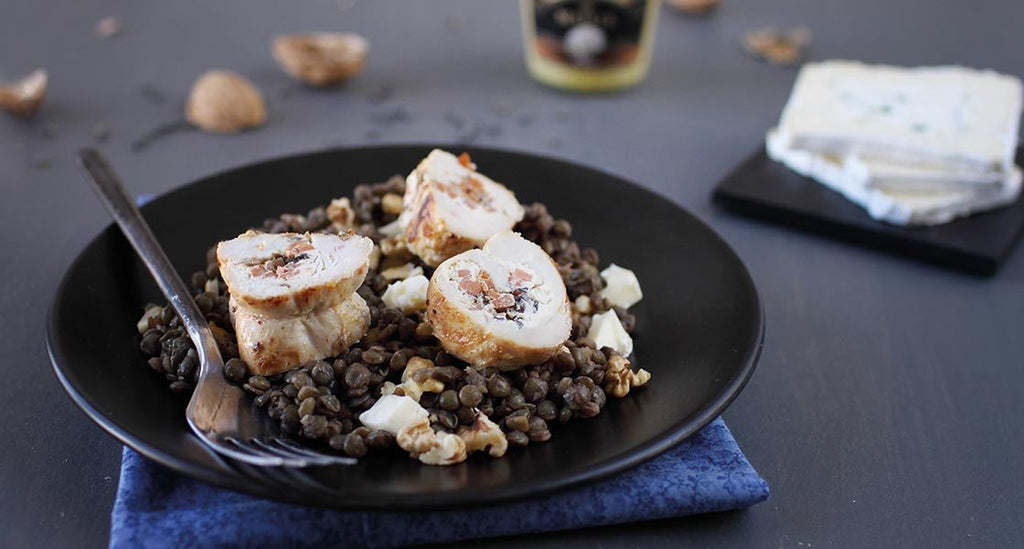 Ingredients
4 chicken breasts (as thin as possible)
1 carrot
5 white button mushrooms (medium size)
½ cup soft fromage frais (plain)
2 teaspoons Maille Mustard with White Wine and Blue Cheese
½ green lentils
12 shelled walnuts
2 tbsp Blue cheese
Salt, Pepper
Preparation
The Filling
Peel the carrot and the mushrooms.
Brunoise the carrot and mushrooms. (That is to say, cut in very small pieces.)
Heat some oil in a frying pan and cook the vegetables over medium heat for 15 minutes.
Stir occasionally.
Meanwhile, mix together the fromage frais and Maille Mustard with White Wine and Blue Cheese in a bowl.
Refrigerate.
The Lentils
Put the lentils into a large saucepan with salted water over medium heat.
Simmer for 40 to 45 minutes.
The Ballottines
If the chicken breasts appear to be too thick, trim them to the thinness of a wallet.
Brush the chicken with the fromage frais/mustard mixture.
Add the vegetables on top.
Roll the meat into a cylindrical shape and secure the roll with string.
Heat a pan with fat and cook the ballottines for 30 minutes over medium heat.
Turn them regularly in order to obtain even cooking.
Presentation
At the end of cooking, remove the string.
Slice the ballottines into segments. Serve with the lentils.
Top with diced Blue cheese and crushed walnuts.
Chef's Tips
This recipe can be done via steam cooking for a more diet-friendly version. For this method, wrap the ballottines in cling film of 2 or 3 layers. Then cook in a steamer for 30 minutes.
Maille Tip
Maille Mustard with White Wine and Blue Cheese works wonders with a rump steak in a Blue cheese and crème fraîche sauce or as an accompaniment to gnocchi in place of Gorgonzola.
---