Chicken Sausage with a Bonne Maman Cherry & Maille Old Style Compote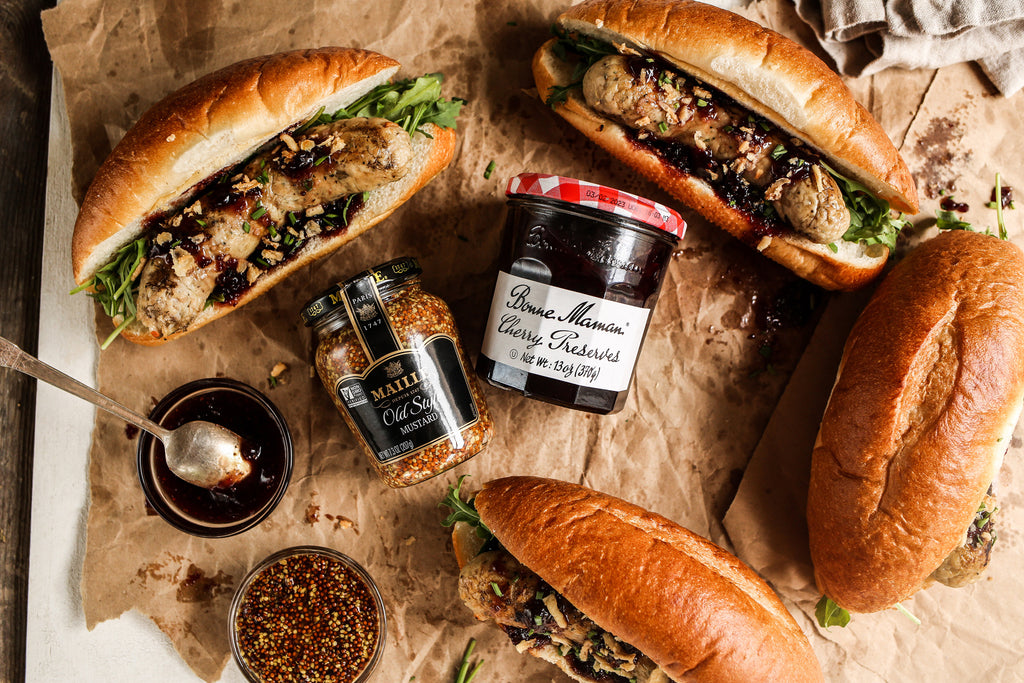 Ingredients
4 ea Chicken Sausage, such as an apple chicken sausage (could also use duck or any available game sausage)
4 ea Split Top rolls
1 cup Bonne Maman Cherry Preserves
1 Tbsp Chopped Shallots
1 tsp Chopped Fresh Garlic
1 Tbsp Chopped Bell pepper
2 Tbsp Maille Old Style
1 Tbsp Calvados or Apple Juice
Crispy Garlic, Garnish
Chives, Garnish
Preparation
In a saucepan sauté onion in 1 Tbsp butter and cook until translucent
Add garlic and bell pepper and cook until tender.
Deglaze with calvados or apple juice and reduce until almost gone.
Add Bonne Maman cherry preserves and Maille Old Style, mix together in pan.
Remove from heat and let cool.
Grill sausage and toast the buns
To plate, add sausage to toasted bun and top with a spoonful of cherry preserves and top with garlic and chives.
Enjoy!
---