Chicken Thighs with Kale and Acorn Squash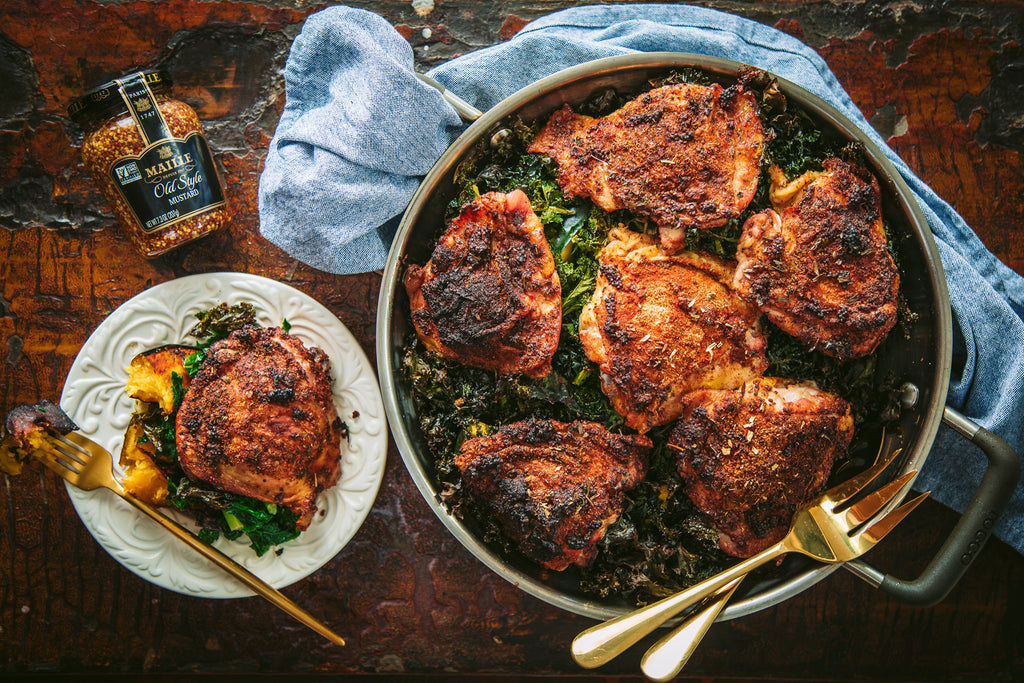 Prep Time: 20 Minutes
Cook time: 1 Hour
Serves: 6-8
By: The Quiingredient
Ingredients
6-8 SKIN-ON chicken thighs 2.5-3lb
2 medium acorn squash
4-6 cups of chopped kale
2 Tbs olive oil
2 Tbs Maille Old Style Mustard
Salt and Pepper to taste
4 Tbs of Qui House Blend or seasoning blend of your choice
Preparation
Preheat oven to 450
Cut acorn squash in half and scoop out seeds and innards
Slice squash lengthwise following the ribs, cutting 1-1.5 inch slices
In a medium-sized baking dish OR large/deep oven-safe pan, place the squash tightly together and season with one Tbs of olive oil and salt and pepper
Wash kale and coarsely chop Or use pre-cut, pre-washed bagged kale.
Place kale in a medium-sized bowl, use remaining Tbs of olive oil, and toss to coat evenly. Season with salt and pepper.
Place seasoned kale in the pan directly on top of the seasoned squash and pat down.
In a medium bowl, add chicken. Rinse thoroughly, drain and pat dry
Add two Tbs of Maille Old Style Mustard and massage into the chicken thighs
On a large cookie sheet or cutting board, place chicken and season both sides generously with salt, pepper, my seasoning blend, or a combination of herbs and spices of your choosing. Thoroughly coat the skin-side of the chicken completely
Place raw chicken on top of the seasoned kale covering completely
Bake in the oven for 1 hour or until chicken is thoroughly cooked and the skin is brown and crisp.
---