Chocolate Ganache Tart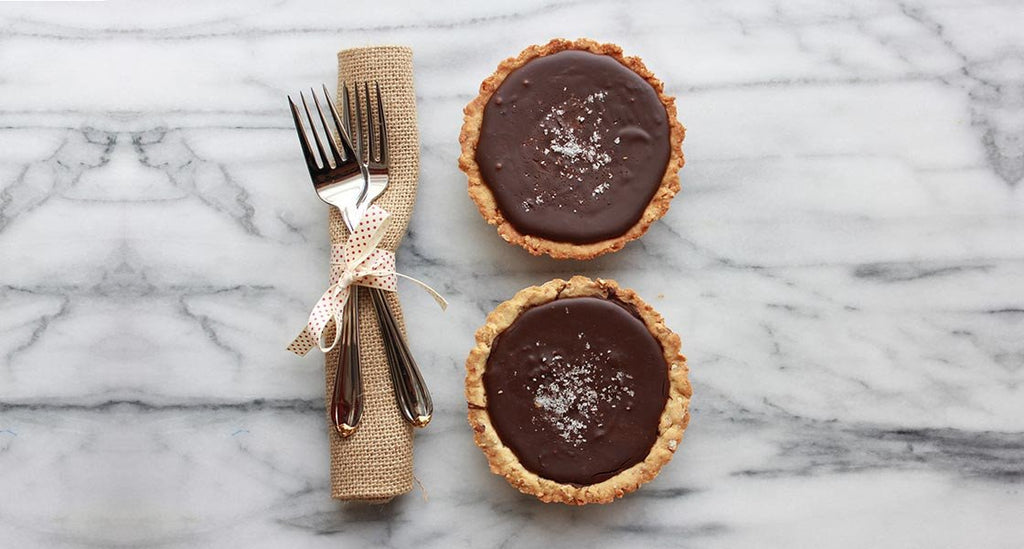 Ingredients
Fot the tart shells
1½ cup salted butter, room temperature
¾ cup confectioners' sugar
4 tbsp. Maille Honey Dijon mustard
1 ¾ cup salted mini-pretzels, crushed (reserve a few pretzels intact)
1 ½ cups all-purpose flour
1 egg
¼ tsp. salt
Ganache
10 oz. semi-sweet chocolate chips, melted
1 ½ cups of heavy cream
12 oz. dark chocolate, chopped
Sea salt for sprinkling on top
Preparation
Cream butter in electric mixer with paddle attachment until smooth, about 30 seconds. Add confectioners' sugar, Maille Honey Dijon mustard and pretzels. Blend on low speed until combined. Slowly beat in flour, egg and salt. Add 4-6 whole mini-pretzels to dough and blend quickly — just breaking them up but leave the pieces large enough to add a fun crunch to the crust. Remove dough and wrap in plastic wrap for at least 2 hours or up to 2 days.
Remove dough and let stand until warmed up, about 25 minutes.
Preheat oven to 375°. Spray 2 fluted tartlet pans (with removable bottom) or 9-in. fluted tart pan with removable bottom with no-stick baking spray, then lightly coat with flour; set aside.
Roll dough out to about ¼-inch thick. If dough breaks, just pinch it back together. Gently press into prepared pans* and up the sides. Pierce bottom of crust several times with a fork. Run knife along edge to remove any excess dough. Bake for 18 minutes or until golden brown. Remove and let cool completely. The crust will firm up to a lovely crunchy texture as it cools.
When your tart shells are completely cooled, paint the inside of each tartlet or tart with a thin coating of melted dark chocolate. Refrigerate.
Meanwhile, heat heavy cream in saucepan over medium heat just to boiling point; remove from heat and stir in chocolate until chocolate is melted. The mixture will resemble a dark chocolate pudding. Keep whisking 2 to 3 minutes, then let stand until completely cooled, about 30 minutes.
Pour into prepared shells, then sprinkle with sea salt. Refrigerate until ganache is firm.
Make up to four days ahead (store tarts at room temperature).
*Any breaking or cracking can be pinched back together or you can use excess pieces for filling in — this dough is very forgiving.
To serve
Garnish with freshly whipped cream and raspberries before serving.
---