Citrus + Dijon Marinated Shrimp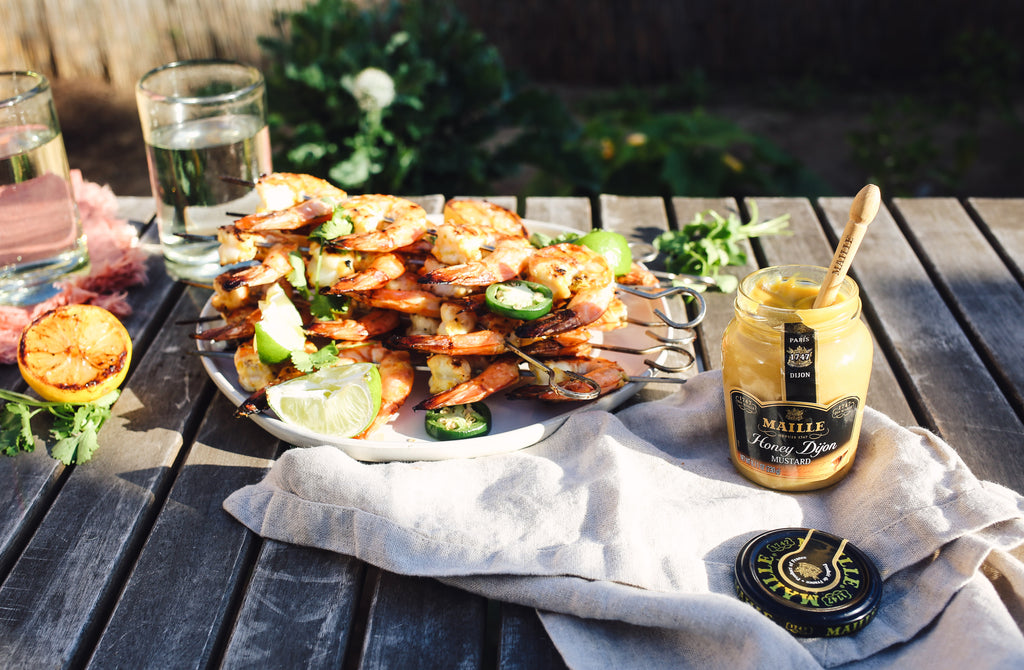 Recipe Created by: Runway Chef
Prep time: 15 minutes
Cook time: 6-8 minutes
Yields: 8 skewers (4 shrimp per skewer)
Ingredients
2 ½ - 3 pounds of colossal shrimp (32 shrimp total), peeled and deveined
1 cup olive oil
4 tablespoons Maille Honey Dijon
Zest and juice of each of 2 lemons, 2 limes and 2 oranges
4 cloves garlic, minced
1 jalapeno, finely diced
2 teaspoons salt
½ teaspoon fresh ground black pepper
Additional citrus wedges, jalapeno slices and fresh cilantro or basil for serving (optional)
Preparation
In a large bowl, whisk together the olive oil, Maille Honey Dijon, citrus zest and juice, garlic, jalapeno, salt and pepper. Add in the shrimp and toss to coat. Cover tightly, then place in the refrigerator and allow the shrimp to marinate for at least 1-1 ½ hours.
Once the shrimp have marinated, assemble them on skewers, 4 shrimp per skewer.
Preheat the grill to medium-high heat. Place the skewers on the grill. Cook for 3-4 minutes, then flip the skewers and cook for an additional 3-4 minutes. The shrimp should be pink and lightly charred once they're done.
Garnish with your choice of citrus wedges, jalapenos and/or fresh herbs and serve immediately.
Notes
The shrimp marinade can be made up 24 hours in advance. Simply keep it covered and refrigerated until you're ready to add in the shrimp.
Leftover marinade can also be used to baste and grill vegetables, such as corn and zucchini.
---