Classic Deviled Eggs recipe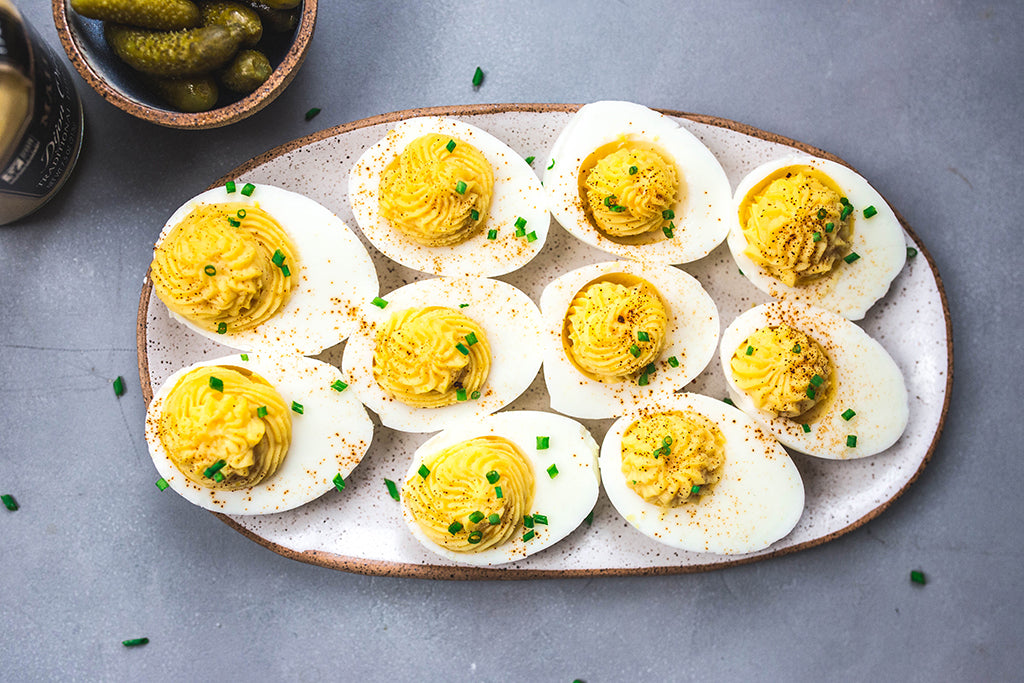 Recipe by: foodbymars.com
Servings: 6
Ingredients
6 large, fresh pasture-raised eggs
Sea salt to taste
1 tsp red wine vinegar
3 Tbsp mayonnaise
Paprika and chives to garnish 
Preparation
In a saucepan, cover eggs with water and bring to a boil. Once boiling, cover your pot and turn the stovetop off. Set your time for 5 minutes. 
Prep a medium sized mixing bowl with ice and cold water. Once 5 minutes has passed, remove lid and remove the eggs with a slotted spoon and place carefully into the ice bath.
Allow the eggs to cool and check in on them to make sure water stays cold (you can replace water with cold water as needed)
After 10-15 or so minutes, the eggs should be cool enough to handle.
Begin peeling the eggs carefully (or store them in the fridge until you're ready to start). 
Cut eggs in half lengthwise, and pop out or scoop the yolk into a bowl, set egg whites aside on a serving dish.
Mix the yolk with mayo, Maille Dijon Originale Mustard, red wine vinegar, and sea salt with a spoon or fork, ensuring it's all well combined and smooth.
Using a piping bag or plastic bag with a snipped tip, add the mixture to it and pipe it back into the egg whites.
Garnish with paprika and chives.
---