Coconut Mustard Rice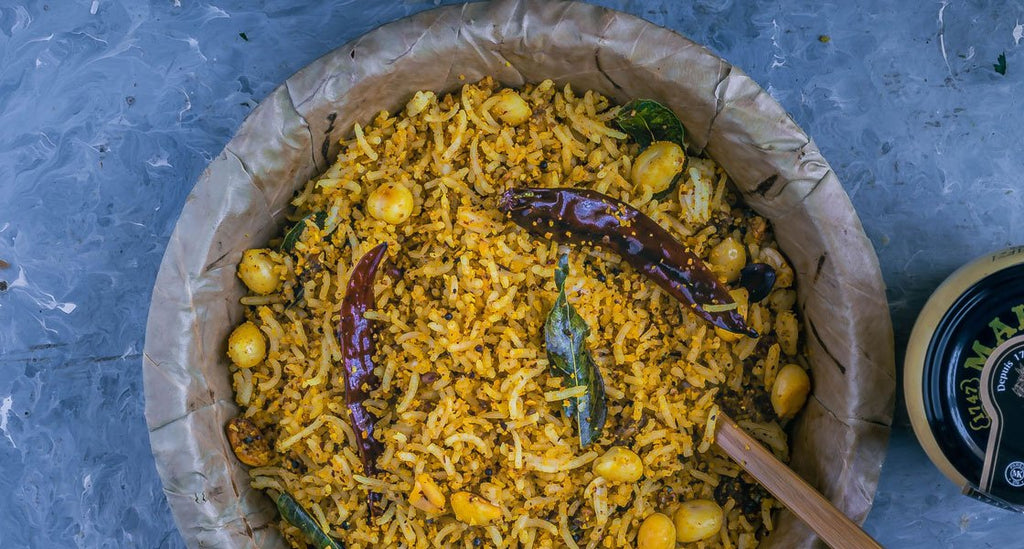 Recipe by: Cookilicious
Servings: 4
Ingredients
To cook rice
1 cup rice
water for soaking
1.5 cups water to cook rice
To prepare the coconut-mustard masala
To prepare the Coconut Mustard rice
1/2 tbsp coconut oil
1 tsp mustard seeds
1 tsp cumin seeds
5 curry leaves
2 dried red chillies
1/4 cup peanuts
1 tbsp lemon juice
1 tbsp brown sugar
salt
Preparation
To cook rice
First soak Basmati rice in water for 30 minutes. The level of water should at least be two inches above the rice. Drain the water, add fresh water and then cook it in a Rice Cooker/Instant Pot or on the Stove-Top.
To prepare the coconut-mustard masala
Prepare the masala by adding shredded coconut, dried red chillies, turmeric powder to a blender.
Then add Maille Dijon Originale Mustard to it and blend it coarsely. Don't add any water.
The masala needs to be semi-dry and crumbly.
To prepare the Coconut Mustard rice
Heat a pan and add coconut oil. Once it melts, temper with mustard seeds and urad dal. When the mustard seeds begin to splutter add peanuts, dried red chillies and curry leaves. Fry till the peanuts turn light golden.
Then add in the crumbly coconut-mustard mix to the pan and saute it for 2-3 minutes on medium flame.
Lastly add the cooked rice, lemon juice, sugar and salt. Toss it all together so that the rice gets coated well with the masala. Cook for a minute and take it off the flame.
---