Crab Cakes with Sweet Mustard Sauce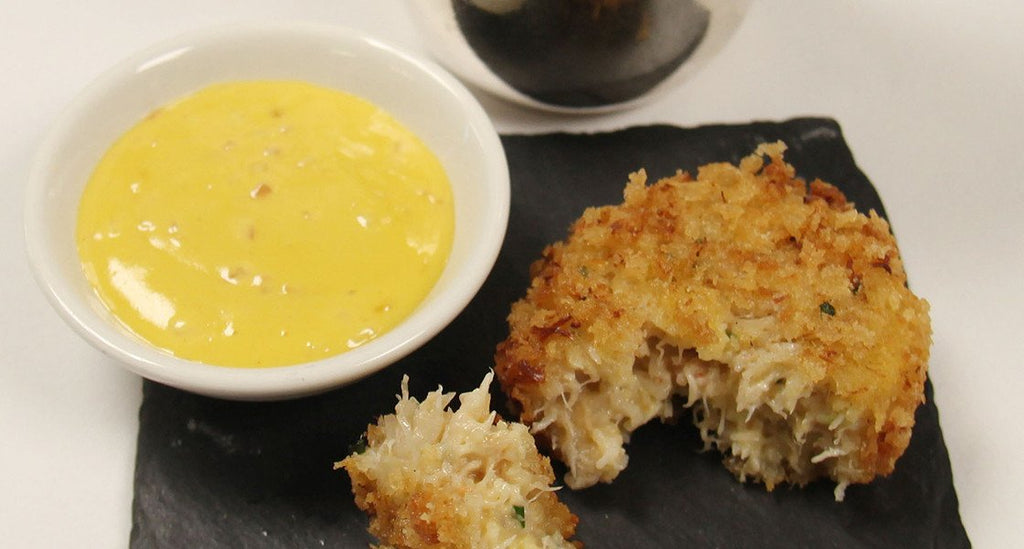 Ingredients
2 teaspoons olive oil
1 tablespoon finely chopped shallot or onion
2 tablespoons white wine vinegar
6 tablespoons PLUS ¼ cup mayonnaise, divided
Salt and freshly ground black pepper to taste
12 ounces lump crabmeat
1 tablespoon hot sauce
2 teaspoons Worcestershire sauce
2 tablespoons finely chopped green onions
4 egg yolks
¾ cup Panko bread crumbs
¼ cup vegetable oil
Preparation
Heat olive oil in small skillet over medium-high heat and cook shallots until tender, stirring occasionally. Add white wine vinegar and bring to a boil, stirring frequently. Boil until the vinegar is almost evaporated. Remove from heat and let cool. Stir in 3 tablespoons mayonnaise, Maille Honey Dijon Mustard and salt and pepper. Cover and chill until ready to serve.
Combine crabmeat, remaining ¼ cup mayonnaise, hot sauce, Worcestershire sauce and green onions in medium bowl. Season, if desired, with salt and freshly ground black pepper. Shape into 12 patties and chill until firm, about 30 minutes.
Whisk egg yolks with a fork. Carefully dip crab cakes into egg yolks to coat, followed by bread crumbs. Heat vegetable oil in large skillet over medium-high heat and cook crab cakes (in batches, if needed) until golden, about 5 minutes, turning once.
To serve
Serve with chilled Mustard sauce.
---