Cranberry Orange Roast Chicken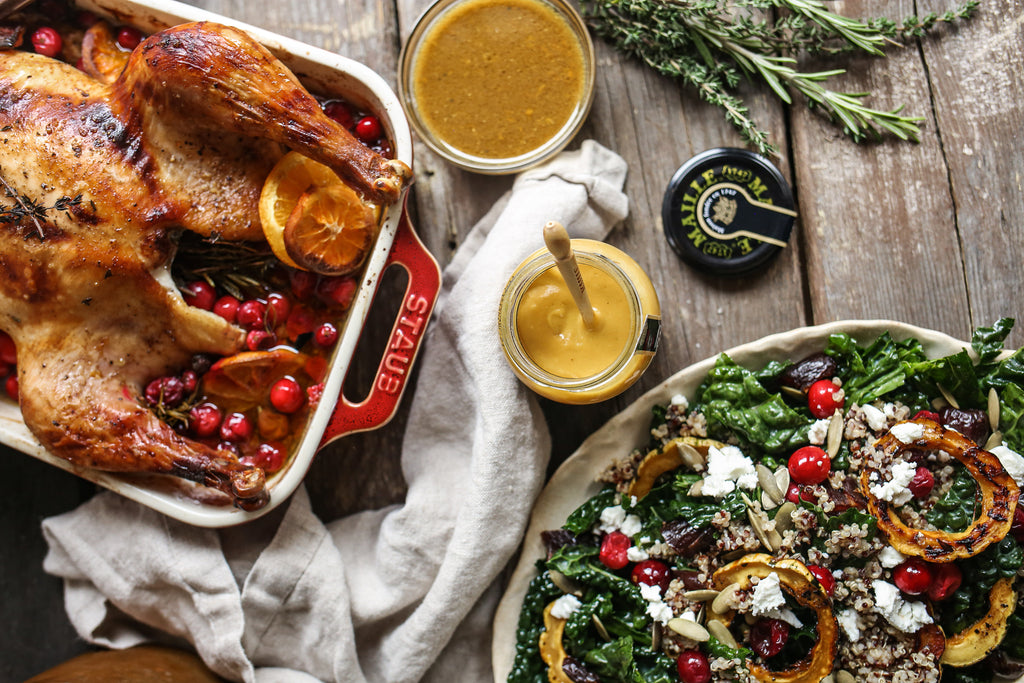 Prep Time: 20 Minutes
Cook time: 80-90 Minutes
Serves: 4-6
Ingredients
MARINADE/DRESSING
3/4 cup extra-virgin olive oil
1/2 cup balsamic vinegar
3/4 cup orange juice
2 tablespoons Maille Honey Dijon Mustard
1 teaspoon sea salt
1/4 teaspoon fresh ground black pepper
Zest of 2 oranges (reserve the oranges for the chicken)
Frying oil
CHICKEN
4-5 pound whole chicken (let rest at room temperature for 30-60 minutes)
¼ cup unsalted butter, slightly softened
Salt and pepper
12 ounces cranberries (fresh or frozen)
2 oranges (use the ones zested for the marinade), sliced
A few sprigs of each of rosemary, thyme and sage
SALAD
1 delicata squash, sliced into roughly ¼" thick slices, seeds + ends removed
Sea Salt
1 bunch (about ½ pound) lacinto kale (or kale of your choice), roughly chopped
1 ½ cups cooked quinoa
½ cup roughly chopped dates
⅓ cup toasted pumpkin seeds
4-6 ounces goat cheese
Preparation
Preheat the oven to 400 degrees.
In a medium sized bowl, whisk together the olive oil, balsamic vinegar, orange juice, Maille Honey Dijon Mustard , salt, pepper and orange zest just until combined. Set aside.
Remove any giblets from the chicken and pat the skin dry with paper towels. Carefully spread the butter under the skin, being sure not to break the skin, then generously season both the outside and inside of the chicken with salt and pepper. Place in a large roasting dish, then add a few of the cranberries, orange slices and herbs to the cavity. Sprinkle the remaining cranberries around the chicken, then top with the orange slices and more herbs. Pour 1 cup of the marinade mixture over the chicken and cranberries.
Place the delicata squash slices in a single layer in a smaller separate baking dish and drizzle with ⅓ cup of the marinade and sprinkle with sea salt.
Place the chicken and squash in the preheated oven. Cook, checking every 20 minutes, basting the chicken and flipping the squash slices as needed, until the squash is golden brown and the chicken reaches an internal temperature of 165 degrees in the thickest part of the breast. The squash will take about 60-80 minutes and the chicken may take up to 90 minutes. You can cover the top of the chicken loosely with foil if it starts to brown too quickly.
Once the chicken is cooked through, allow it to rest for a few minutes before slicing.
While the chicken rests, in a large serving bowl toss together the kale, quinoa, dates and pumpkin seeds along with the remaining marinade/dressing. Top with the delicate squash slices, about 1 cup of the cooked cranberries from the chicken and then sprinkle with goat cheese crumbles.
Serve the chicken with the cranberries drizzled over top and the salad on the side.
NOTES
If cooking in the Breville Smart Oven, cook the chicken first. Once it's cooked through, remove then turn the temperature up to 425 degrees. Add the squash and cook for 20-25 minutes, or until golden brown and cooked through. Proceed with the rest of the recipe as is.
---