Creamy Cheddar Soup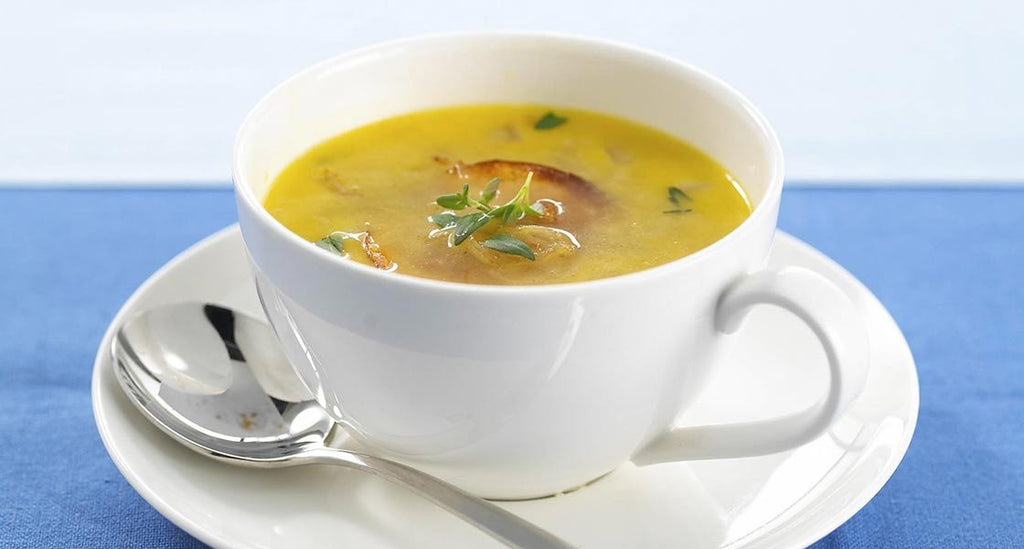 Ingredients
For the soup
4 tbsp. unsalted butter
1 large spanish onion, peeled and finely chopped
3 cloves garlic, peeled and crushed
3 tsp. fresh thyme, divided
3 cups chicken or vegetable stock
8 oz. shredded sharp cheddar cheese
3 tsp. Maille Honey Dijon mustard
4 tbsp. fresh white breadcrumbs
Freshly ground white pepper
For the potato chips & onion rings
2 tbsp. vegetable oil
1 small potato, thinly sliced
1 small onion, peeled and thinly sliced into rings
Preparation
For soup, melt butter in medium sauce pan over low heat and cook onion and garlic, stirring occasionally, until onion is tender, about 5 minutes. Stir in 2 teaspoons thyme. Add stock and bring to a boil over high heat.
Reduce heat to low and add cheese and Maille Honey Dijon mustard and stir until cheese is melting. Add breadcrumbs and simmer until soup has thickened. Season with freshly ground white pepper.
Meanwhile, for Potato Chips & Crispy Onion Rings, heat oil in medium skillet over medium-high heat and cook potato until crisp. Remove potato using slotted spoon and set on paper towel to absorb excess oil. Cook onion rings in same skillet until caramelized and crisp. Set aside on paper towel.
To serve
Ladle soup into 4 bowls or soup cups and top with potato slices and onion rings. Garnish with remaining 1 teaspoon thyme.
---