Creamy Maille Scalloped Potatoes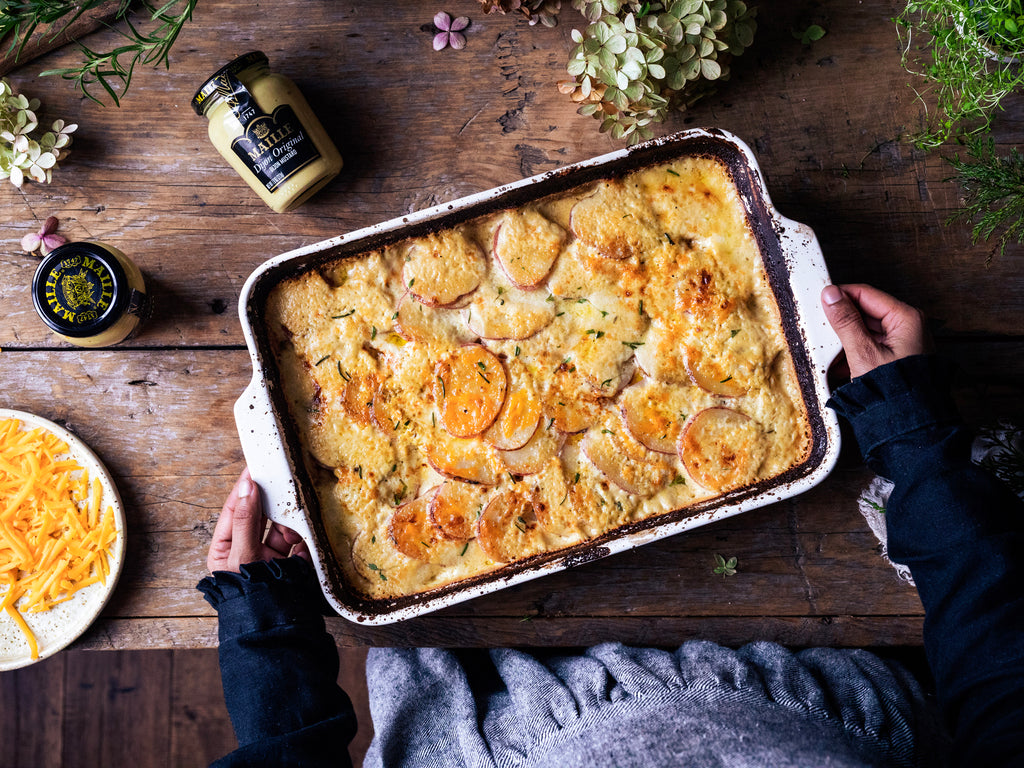 Prep Time: 20 Minutes
Cook Time: 1 Hour 50 minutes
Serves: 6
By: Swarnika
An easy creamy mustard scalloped potatoes dish with gruyere and cheddar
Ingredients
8-10 Red or Yukon Gold Potatoes (or a mix)
3 Cups Half & Half
1 tbsp Maille Dijon Original
1 tsp Salt
1 tsp Pepper
1 tsp Dried Sage
1 tsp Dried Rosemary
1 tsp Onion Powder
1 tsp Granulated Garlic
1 tsp Dried Thyme
1 cup grated Gruyere
1 cup grated Cheddar
Preparation
Preheat oven to 450F
Wash and thinly slice potatoes (approx. 1/8th inch). Using a mandolin makes an easy job of slicing potatoes evenly.
Add salt, pepper, sage, rosemary, thyme, onion powder, granulated garlic, and Maille Dijon Original to half & half. Mix well and keep aside.
Spray a large baking dish with non-stick spray and add 1/3rd of the potatoes in a layer. Add 1/3rd of the half & half mix and top with 1/3rd of the cheddar and gruyere. Repeat until all the potatoes, half & half mix, and cheese is used up.
Bake covered for 1.5 hours. Uncover and let bake for another 20 minutes to brown the cheese.
Serve warm and enjoy!
---