Creamy Vegan Artichoke + White Bean Dip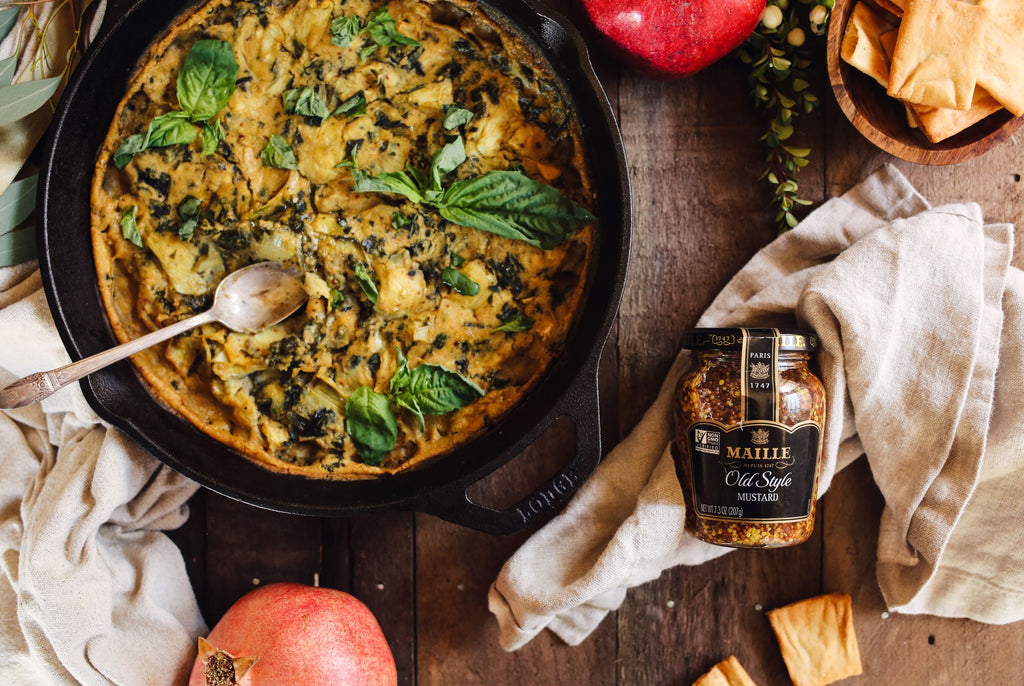 Recipe by: Runway Chef
Prep Time: 10 minute
Cook Time: 20 minutes
Servings: 6-8
Ingredients
1 15 oz can White Kidney Beans
1/2 Tbsp Maille Old Style Mustard
3 Cloves Garlic, Chopped
1/4 cup Nutritional Yeast
1/2 tsp Red Pepper Flakes
1/2 Cup Non-Dairy Milk (Oat, Cashew, or Almond)
2 tsp Salt
1/2 Tbsp Olive Oil
8 Oz Frozen Spinach (or 16oz Fresh)
12 oz jar Marinated Artichokes, Chopped
As Needed Fresh Herbs, Garnish
As Needed Pita Chips, Bread Crisps, or Crackers for Serving
Preparation
Preheat oven to 375 degrees.
In a food processor, puree together the beans, Maille Dijon Old Style, garlic, nutritional yeast, red pepper flakes, non-dairy milk and 1 teaspoon of the salt until smooth and creamy, stopping to scrape down the sides as needed. Set aside.
In a medium-sized cast iron, or oven-safe, skillet, heat the olive oil over a medium burner. Then toss in the spinach, artichokes and remaining teaspoon of salt. Saute until the spinach is cooked through (and wilted, if using fresh), about 2-3 minutes. Remove from the heat, stir in the bean mixture until combined and transfer the skillet to the oven. Bake for 20 minutes, or until the top is golden brown. If the top starts to get too dark to quickly, simply cover the pan with foil and finish baking.
Let cool for a few minutes, then serve with dipping crackers of your choice. Leftovers can be stored in an airtight container in the refrigerator, and be enjoyed cold, or reheated for a few minutes.
---