Crispy Baked Ravioli with Herbed Dijon Dipping Sauce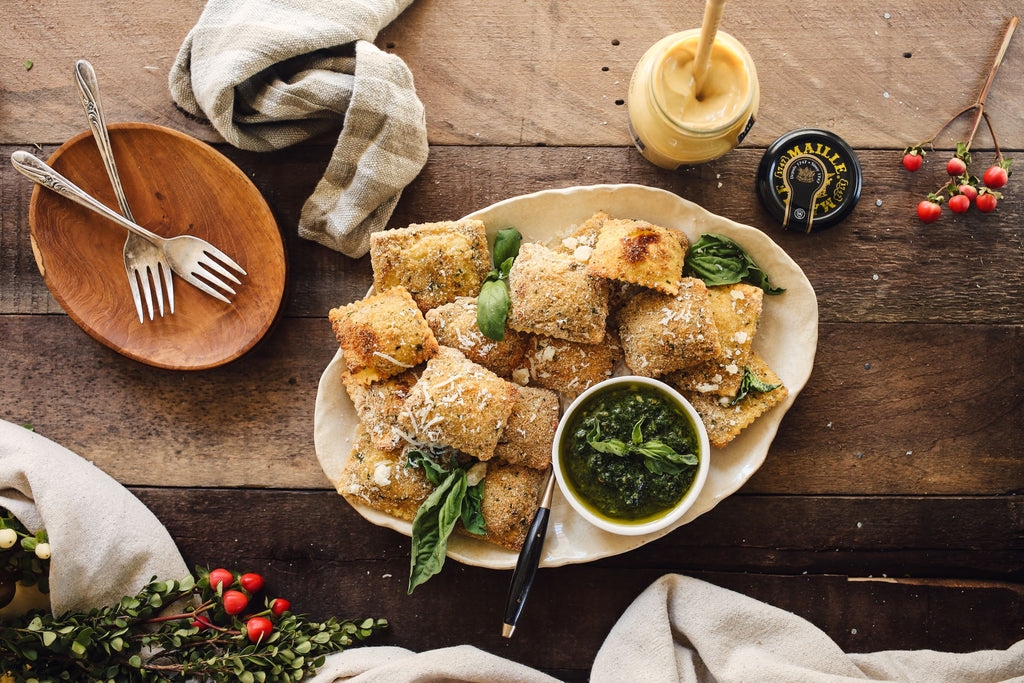 Recipe by: Runway Chef
Prep Time: 12 minutes
Cook Time: 10-12 minutes
Servings: 4-6 for an Appetizer
Ingredients
For the Ravioli:
10 oz Package of Cheese Ravioli (or flavor of your choice)
2 ea. Eggs
1 tsp Maille Dijon Originale
1/2 cup Italian Bread Crumbs
1/2 Cup Grated Parmesan Cheese
For the Dipping Sauce:
1 Cup Olive Oil, Plus More for Serving
1 Tbsp olive oil
2 tsp Maille Dijon Originale
2 Cups Fresh Basil
1/2 Cup Fresh Parsley
2 Cloves Garlic
1/2 tsp Salt
1/2 tsp Red Pepper Flakes
Preparation
Preheat oven to 375 degrees. Line a baking sheet with a silpat mat and set aside.
In a medium bowl, whisk together the egg and 1 teaspoon of Maille Originale Dijon mustard. In another bowl, stir together the bread crumbs and parmesan cheese. Dip a ravioli in the egg mixture, then the bread crumb mixture, repeat again, then place on the baking sheet. Continue until all ravioli are coated.
Bake at 375 for 10-12 minutes, or until the ravioli begin to turn golden brown./li>
Meanwhile, in a food processor, combine all of the dipping sauce ingredients. Pulse for 30-60 seconds, or until the herbs and garlic are finely chopped and everything is well blended. Pour into a small bowl. Drizzle the top with additional olive oil. Set aside.
Once the ravioli are finished baking, transfer to a serving dish and enjoy along with the herby dipping sauce.
---