Dijon Chickpea Fritters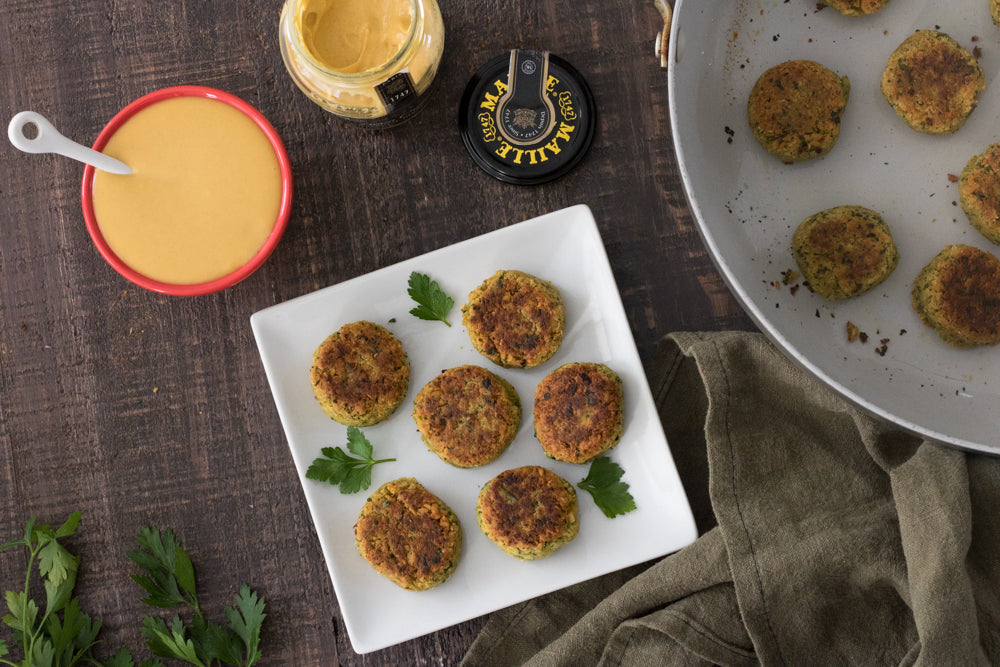 Recipe created by: Eating by Elaine
Makes; 15 fritters
Ingredients
2 tablespoons agave (or substitute maple syrup which has a slightly stronger flavor)
2 tablespoons mayonnaise
1 shallot, chopped
2 cloves garlic
1, 15-ounce can garbanzo beans (chickpeas), drained, rinsed and mostly dried
1 cup fresh Italian flat leaf parsley (large, tough stems removed)
1/2 cup + 2 tablespoons certified gluten-free oats
1 tablespoon Maille Dijon Originale Mustard
3/4 teaspoon fine salt
1/2 teaspoon ground black pepper
2-3 tablespoons extra virgin olive oil for pan frying
1 batch of dipping sauce listed in the instructions
Preparation
To make the dipping sauce combine Maille Dijon Originale Mustard, agave and mayonnaise to a small bowl. Use a whisk (or fork) to combine well until no clumps remain.
In a food processor, pulse the shallot and garlic until finely minced. Add the garbanzo beans, parsley, oats, Maille Dijon Originale Mustard, salt and pepper to the processor. Pulse 5-10 times until the mixture is easily formed into balls.*
Using a 1.5 tablespoon cookie scoop, scoop the batter into your hands. Form into balls or patties using your dry hands.**
Heat a 12-inch nonstick pan over medium heat and add 2 tablespoons of olive oil. Once the oil is hot (about 2-3 minutes), place the patties on the pan evenly spaced out (they should not be touching). Cook on medium heat for 3-4 minutes per side until golden brown on both the top and bottom. You may need to add 1 more tablespoon of oil if you do this in two batches or if you want more of the edge to be crispy.
Serve immediately while hot (or store and warm before serving). Serve with the dipping sauce, whisk again before serving. 
Fritters and sauce can be stored in an airtight container in the refrigerator for up to one week.
Notes:
* To know when the chickpea mixture is processed enough, pinch the mixture between two fingers and it should easily stick together. You don't want to over process the mixture or it will turn into mush, but you also don't want any chunks of chickpeas. A couple are okay, but if it's too loose it will fall apart.
**We suggest rolling the mixture into balls and then slightly flattening the top and bottom between the palms of your hands to form mini patties. Work around the edges with your fingers to make sure there are no cracks or loose pieces around the edge. The 1.5 tablespoon cookie scoop is suggested, but not required, you can size the chickpea balls to your liking.  Using the 1.5 tablespoon cookie scoop this recipe yields 15 fritters. You could double the recipe if you are serving a larger crowd.
---