Dijon Crusted Turkey Stuffing Rolls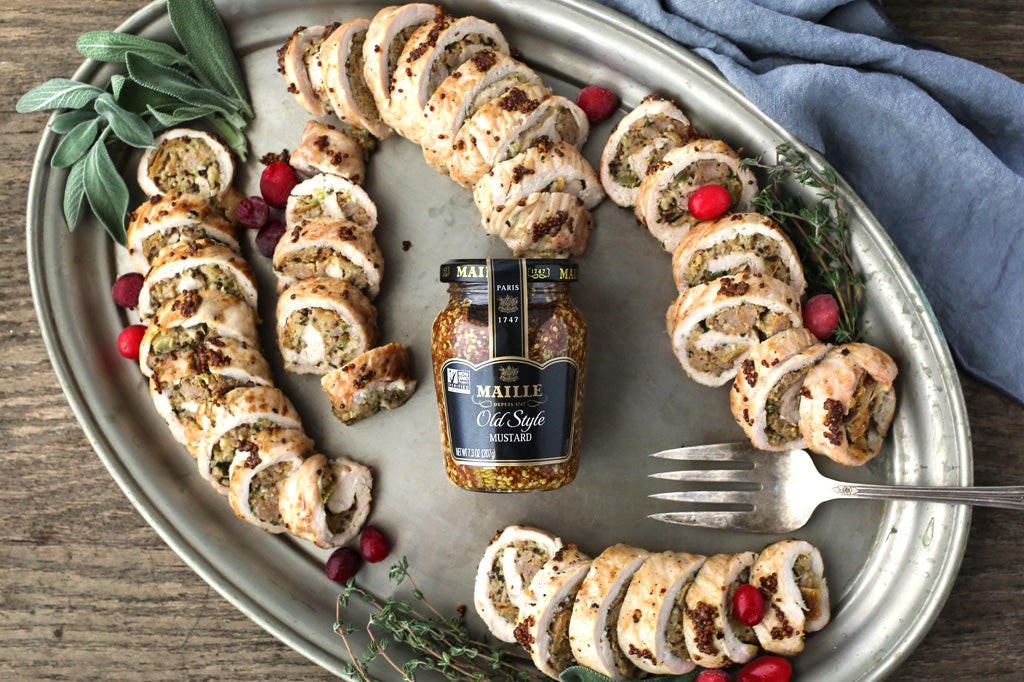 Serves: 6
prep time: 15 minutes
cook time: 41-54 minutes
Ingredients
1 pound sweet Italian sausage
1 cup diced celery (about 3-4 stalks)
1 cup diced shallots (about 2 medium-sized shallots)
3 cloves of garlic, minced
3 ½ tablespoons Maille Old Style
¼ cup chopped fresh parsley
1 tablespoon thyme
1 tablespoon chopped sage
½ teaspoon salt
½ cup (1 stick) of unsalted butter
8 cups sourdough bread cubes, toasted
2 cups broth of your choice
4-5 turkey breasts (about ½ a pound each)
Additional Maille Old Style
Salt + Pepper
Olive oil
Method
Preheat oven to 350 degrees.
Meanwhile, in a large skillet or cast iron pan set on a medium heat burner, sauté the sausage for 3 minutes, using a spoon to gently break the meat up as it cooks. Add the celery, shallots and garlic and continue sautéing, stirring occasionally, for 7-10 minutes, or until the sausage is cooked through and the vegetables have turned translucent. Add the Maille Old Style, herbs and salt and stir, cooking for an additional minute.
Next, add the butter, stirring gently, until it has melted. Toss in the bread cubes, then pour in the broth and gently mix until everything is combined and the bread has soaked up the liquid. Remove from the heat and set aside.
Lay the turkey breasts on a cutting board and pound with a meat mallet until it's about ¼" thick. Sprinkle each turkey breast with salt and pepper, then spread with an even layer of stuffing, about ¼" thick (be sure not to get the stuffing too close to the edges to prevent it from spilling out when the turkey is rolled up).
Starting with the short end, roll each turkey breast into a log. Use kitchen twine to tie up both ends of each roll, and then transfer the rolls to a baking sheet. Brush generously with olive oil, then coat with additional Maille Old Style. Bake for 15 minutes. Flip the rolls over, then continue baking for another 15-25 minutes, or until the internal temperature reaches 165°F. Remove from the oven and allow to rest for a few minutes. Then discard the twine and slice the rolls (a serrated knife works best for these). Serve with the remaining stuffing, cranberry sauce, gravy, Maille Cornichons, your favorite sides…the options are endless!
Leftovers should be stored in an airtight container in the refrigerator.
---